As I warned in my first post on the controlled load shedding that took place in South Australia last Wednesday, there has been near-continuous coverage of the event and the reasons for it, and of course of the subsequent near-misses in NSW (see the collection of Paul's posts here for how that day evolved, with more to come when we catch our breath).
I'm going to focus here on the reasons given for the gas-fired Pelican Point Power Station in Adelaide not bidding its full capacity into the market on Wednesday 8 February before and during the period when load shedding occurred, despite the fact that it was able to make that capacity available on Thursday evening when "directed" by AEMO.
This is a complex issue and has been the subject of heated debate. Nothing presented here is intended to be conclusive nor exhaustive, but simply an attempt to provide context then dissect and explain a bit more fully some of the information that has so far been put into the public domain.
I would also point readers to a couple of other relevant pieces published recently:
In this post I'll be going into more detail on the specific issues affecting Pelican Point. First some background.
Pelican Point PS Configuration
Pelican Point is a gas-fired combined cycle plant built in 1999-2001 comprising two 160 MW gas turbines (GTs) and a 158 MW steam turbine, with a total registered capacity of 478 MW. Each GT directly drives its own generator, and their hot exhaust gases are fed into specialised boilers ("Heat Recovery Steam Generators") which produce high pressure steam driving the third turbogenerator.
With a single GT operating, the plant is capable of roughly half its nominal output (full GT output plus about half of the steam turbine capacity).
Although there are three physical generating units, for market bidding and dispatch purposes Pelican Point is registered with AEMO as a single "aggregated unit".
Reduced Operation
Since early 2013, Pelican Point has operated only rarely at full capacity, and prior to last Friday, not since March 2015, as seen in this chart of weekly maximum availability (ie capacity bid into the NEM) and output from global-roam's NEM-Review historical market data analysis product: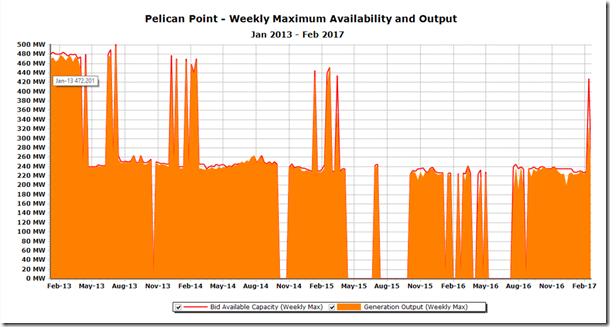 Pelican Point's majority owner Engie has stated that there is "no commercial rationale to operate the second Pelican Point unit in the current market environment in SA for a small number of days across the year".
Thus the station has been operating only a single gas turbine unit supplemented by (up to) half the output of the steam turbogenerator, in total capable of around 220-240 MW under summer conditions – slightly more output is available in winter.
Gas Supply and Transportation
Gas for the station can be delivered from either the Moomba to Adelaide pipeline (MAPS) carrying gas from the Cooper Basin, or the SEA Gas pipeline carrying gas from western Victoria.
A critical factor for gas powered generators is the maximum rate at which they can draw gas from their supplying pipeline system(s), generally specified in terms of a Maximum Hourly Quantity of gas, or MHQ. Physically, the rate at which a station like Pelican Point draws gas is broadly proportional to its current output. Commercially, the station must have rights under its gas supply and transportation arrangements to use gas at that rate. Although we obviously do not have information on Engie's specific arrangements, in general on long distance commercial pipelines such as MAPS and SEA Gas, if a pipeline user with a contracted level of supply takes gas at rates exceeding their maximum right to MHQ for any length of time, they will almost certainly be in breach of their contract conditions, face material contractual cost penalties ("overrun charges") and be at some risk of having gas supply physically curtailed.
The same media release linked to above states that "the second Pelican Point unit has no gas contracts in place". In practice, gas contracts would not be particular to operation of a specific GT unit at Pelican Point, so my interpretation of Engie's statement is that its current gas supply and transportation arrangements only provide enough MHQ to operate one GT at its full output.
Bidding and Dispatching Additional Capacity into the NEM
Engie's statement includes the following critical sentence:
"Under the National Electricity Market (NEM) rules, generators can not bid plant into the market if supply can't be guaranteed"

** I am not in a position to comment in detail on this statement which would require a closer scrutiny of the National Electricity Rules and other data than time allows. However it appears entirely logical, since the market's real time dispatch processes necessarily assume that generator bids are capable of being fulfilled – ie following AEMO's dispatch instructions –  immediately they are called upon. For the purposes of this analysis I shall assume Engie's statement is an accurate reflection of the market rules. **
The important implication of this statement and the considerations above is that in order to bid more Pelican Point capacity than available from running one GT, Engie would need certainty of access to additional MHQ.
To run Pelican Point at higher output levels requires two GT units in service and would require drawing gas at higher hourly rates. To allow this, the station would have to enter into some form of additional gas supply and transportation deal(s) to contractually support these higher rates. Such deals could be longer term contracts for increased amounts of gas and / or transportation, or possibly short term "spot" deals with either the pipeline operator and / or another gas user holding supply and transportation rights. But note that there is no guarantee that either form of deal – particularly a short term (and almost certainly short-notice) spot arrangement can be negotiated on acceptable commercial terms as and when required.
Another key point here is that either form of deal would require an increased financial commitment to pay for rights to additional gas and / or transportation – at least part of which would be payable whether or not the additional plant capacity was dispatched and those rights therefore used.
Based on its media statement, Engie clearly judged some time ago that entering longer term contracts for MHQ beyond operation of one GT was not commercial. This left only the shorter term "spot" gas deal as a possible option for bidding and running more than one GT on a particular day or days last week.
Why didn't Engie do this last Wednesday?
Market Outlook for SA, Wednesday Feb 8
One answer might be that no such spot gas deal was possible in the timeframe required.
Another might be that based on conditions at the time that any deal might have been needed and able to be negotiated, the market outlook did not lead Engie to decide that this was likely to be commercial. We have to remember that the NEM is broadly designed to work through its participants making commercial judgements – which may prove sound or otherwise – in response to price signals, within the manifold rules of the market. AEMO is ultimately responsible for overseeing and maintaining system security and has various powers of intervention, direction and so forth if it judges that participants' commercial actions and likely market responses are insufficient to deliver that system security.
Here's a chart from the earlier post looking at Feb 8, using ez2view's Forecast Convergence tool to show how AEMO's demand forecasts for South Australia evolved on the day: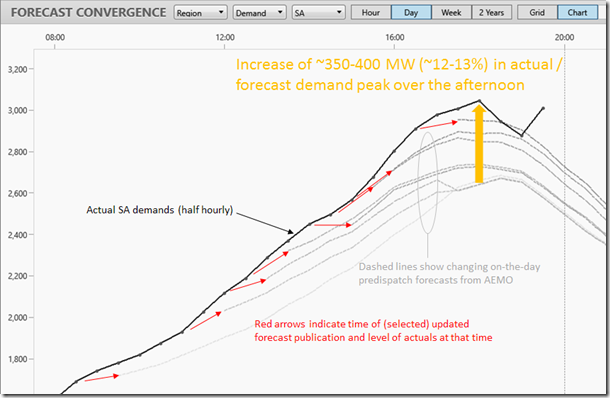 The key takeout from this chart is how AEMO's predispatch demand forecasts, updated every half hour through the day, systematically underestimated actual demand outcomes and even late in the afternoon did not foresee the continuing rapid rise in demand which by 6pm forced load shedding to maintain system security (all times are NEM time, AEST, and so half an hour earlier than Adelaide daylight saving time).
From market participants' perspective, AEMO's accompanying predispatch price forecasts, shown here in ez2view's Forecast Convergence grid view, are an important commercial indicator: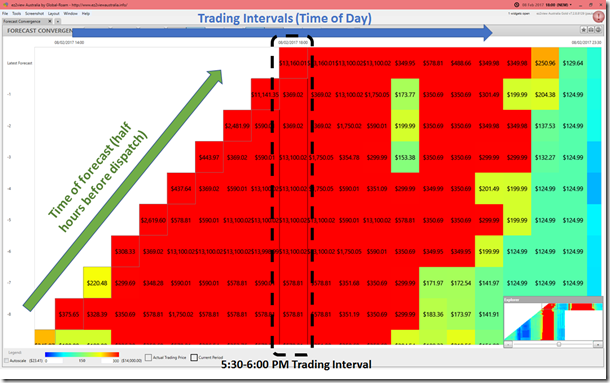 This chart shows the evolution of successive on the day price forecasts made between 2pm and 6pm, for the period out to about 10pm. Before 3pm, extreme 5-digit prices were not being forecast by the market systems, with maximum afternoon prices showing as around $300-$600/MWh. If Engie had been seeking to offer additional generation capacity from Pelican Point by late in the afternoon, by 3pm, or probably even earlier, it almost certainly would need to have arranged additional gas & transportation and commenced readying its second unit for startup.
And whilst ongoing spot prices of $300 – $600/MWh would be very profitable for operation of a CCGT plant like Pelican Point at gas prices even up to $20-30/GJ, the logistics, economics, and risks of arranging short term spot gas supply (if possible) then starting and stopping a second GT for a forecast short run of only a few hours at such prices – which were not necessarily certain to occur –  evidently didn't seem compelling to Engie.
In any case it is clear that on the day Engie did not prearrange additional gas enabling it to offer to the market capacity beyond one GT.
None of this is to say that Engie's decisions prior to or on the day were correct, incorrect, <insert adjective of choice here> … The purpose of the above analysis is to look more deeply at the factors and constraints acting on their decision and ability to offer or not offer that capacity under the market rules.
AEMO Direction – 9 February
Finally, we also know from Engie's media statement that on Thursday 9 February capacity from the second GT unit was made available, following a direction from AEMO – here is the capacity rebid seen in ez2view's Bid Details widget:

AEMO's relevant market notice shows that this direction was formally made at 15:05 NEM time, although there had presumably been discussions throughout the day to ensure that the direction was capable of being followed – including confirming that additional short term gas supply could be arranged.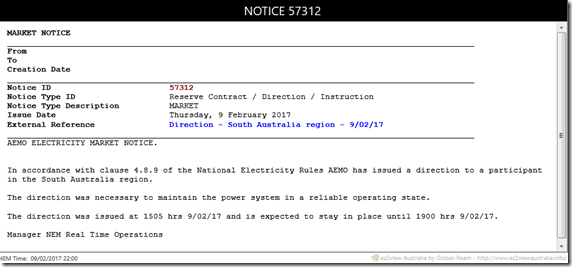 Under Direction from AEMO, a participant is entitled to recovery of its net costs, regardless of market price outcomes, with Engie's media release emphasising this point:
"However, once ENGIE was directed on by AEMO on February 9, we were able to promptly start the second unit, ensuring our costs were covered, including gas to operate the unit."
All this tends to confirm that the decision not to offer the unit on February 8 was a commercial one, particularly centring around gas supply considerations.
About our Guest Author
Allan O'Neil has worked in Australia's wholesale energy markets since their creation in the mid-1990's, in trading, risk management, forecasting and analytical roles with major NEM electricity and gas retail and generation companies.

He is now an independent energy markets consultant, working with clients on projects across a spectrum of wholesale, retail, electricity and gas issues.

You can view Allan's LinkedIn profile here.

Allan will be regularly reviewing market events here on WattClarity. Allan has also begun providing an on-site educational service covering how spot prices are set in the NEM, and other important aspects of the physical electricity market – further details here.