After this morning's post I have been otherwise occupied (at all times trying to stay cool in the heat).
I've returned now to see this tweet from Powerlink, proclaiming a new all-time record electricity demand at 17:30 (note that their measure is slightly different than that shown in NEM-Watch, for instance):

Hence it was with considerable interest that I have now, other jobs completed, had a quick look at how the day panned out in this NEM-Watch snapshot from 20:15 NEM time – which was both well after the Powerlink tweet references, and also later than the 19:30 peak that AEMO had been forecasting this morning: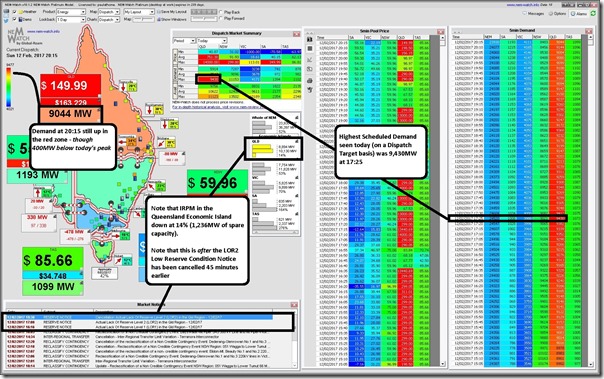 By looking at Scheduled Demand on a "Dispatch Target" basis, like in NEM-Watch, we see that the highest this measure reached today was 9,430MW at 17:25 – which was 47MW below the peak experienced at 17:00 on Wednesday 18th January.
I believe the Powerlink measure will differ in two key respects:
(a)  It will be a Metered Demand, as distinct from a Target; and
(b)  It will be for a half-hour (as distinct from a 5-minute measure, which will inevitably higher as above).
That takes nothing away from the fact that it was a truly astonishing result for the Queensland region on a Sunday (albeit a super-hot one).