To follow yesterday's note about the NEM-wide demand rising above 30,000MW for the 2nd time this summer (thus far) we have seen the Queensland demand rise above 8,000MW today – as shown in this snapshot from NEM-Watch at 15:45 market time: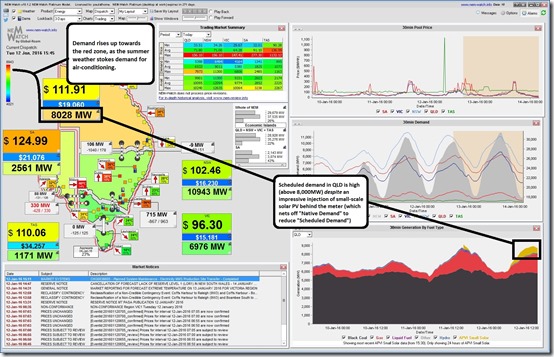 It's the first time since early December that the demand has been this high.
As seen in the colour-coded snapshot, demand in QLD has progressed out of the green zone and into orange, despite the efforts of the 500,000 (or so) small-scale solar PV systems injecting into the grid across QLD, and particularly in the south-east corner (as also shown in NEM-Watch).
Scheduled demand would be higher if those injections were not present – another factor which makes the expectations that peak demand in QLD will be more than 9,000MW this summer (for the first time ever) even more significant.
We'll watch with interest (and then see who wins their portable Weber BBQ).