There are only four days left in which we're accepting entries in our "Best Demand Forecaster in the NEM" challenge – and we're seeing the late-comers submit their entries now (better late than never).
For those not so familiar with what's been happening with demand in the NEM I have included the following trended distribution, filtered just to include the summer months, of NEM-Wide demand (when measured on a Dispatch Target basis):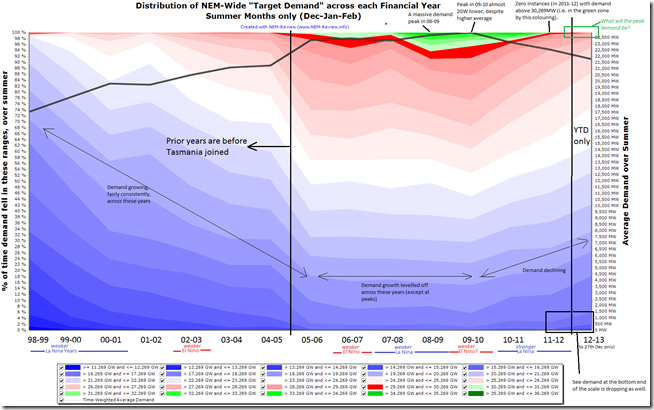 (click on the chart to open a larger version)
This chart is an update on the one provided here for full years, and only up until September 2011. I have used the same green colour coding for demand instances in excess of 30,000MW to make the charts more easily comparable (the blue-to-red colour scaling is automated within NEM-Review).
With reference to this trend of SOI from 1994 to 2007 and this trend from 2007 to 2012, I have annotated the chart above with my understanding of the La Nina and El Nino weather patterns [someone, please correct me if this is wrong?!].
When marked on the chart, we can see that the massive demand peak of 2008-09 occurred simultaneous with a weaker La Nina pattern, and that the much lower (peak, and average) demand levels experienced in 2010-11 and 2011-12 coincided with strong La Nina patterns, which washed out any chance of a spike in demand being experienced in those years.
This chart illustrates why demand forecasters are likely to have a tougher time this year, than in immediately prior years, to forecast what the peak demand will be – as they have to assess the extent to which a significant number of variables that have all been contributing to the changes in demand patterns summarised above:
1)  Some of these factors are transient (such as with respect to the strong La Nina pattern coinciding with depressed demand); whilst
2)  Other factors would be more sustained (price responsiveness, efficiency measures, and increased embedded generation – solar, wind and other).
To show the absolute extremities of summer demand more clearly, we have also included the following chart (again generated in NEM-Review):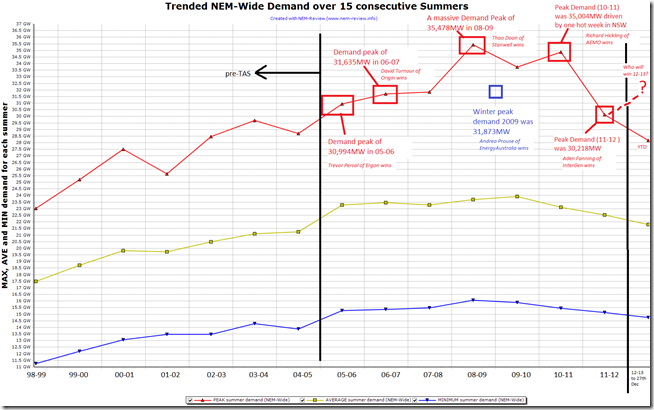 (click on the chart to open a larger version)
This chart shows how the minimum demand level started falling away earliest (from 2008-09) whilst the average level began dropping a year later and the peak demand level was sustained in 2010-11 by virtue of that one hot week in NSW.
Hence, we can see the uncertainty about where peak demand will eventuate for 2012-13.  Whilst it might be seen as reasonably certain that average demand will decline somewhat, peak demand will be almost entirely weather dependent.