It's deja-vu all over again in South Australia this evening (Wed 8th February).
Following on from both:
1)  The massive state-wide blackout on 28th September 2016; and
2)  the smaller interruption that occurred on 1st December;
3)  we see load shedding again.
Here's a quick view of the whole of the NEM through NEM-Watch this evening at 19:30 NEM time (so 20:00 in Adelaide under daylight savings):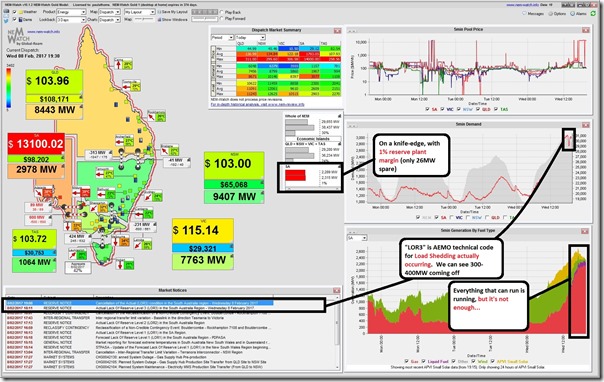 That's not a misprint – it is reading a 1% instantaneous reserve plant margin (or only 26MW of spare capacity declared available for the 19:30 dispatch interval).  That's ludicrous.
As noted in the snapshot, gas-fired generation is supplying the lion's share, with the liquid fuelled plants kicking in a bit, and wind doing what it can (albeit in the doldrums on a stinking hot day).  Solar's also faded into night.  Thankfully, this time, the interconnections have held up.
When are we going to, collectively, stop treating the electricity sector as a political football, or ideologically-driven plaything at both ends of the Emotion-o-meter?
Matthew Warren wrote similarly in the AFR just yesterday.
Surely the South Australian's deserve better. Politicians, of all flavours, should hang their heads in shame.