A quick note early this evening with a snapshot from NEMwatch at 17:05 to mark an ongoing string of spot price volatility in South Australia: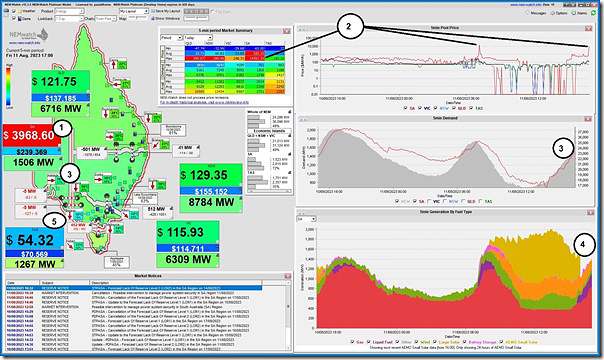 Per the numbered annotations:
1)  The spot price at this time is $3,968.60/MWh
2)  But has been higher at various points in the day:
(a)  At $14,391.35/MWh this morning at 07:10
(b)  To $9,899.50/MWh earlier this evening at 17:00
(c)  It also spiked to the recently increased Market Price Cap (increased for FY 2023-24) at 17:20 and 17:25 … later than the above and as I type this article.
3)  The Market Demand is climbing into the evening … but still (in the 'green zone' so quite modest in relative terms).
4)  There's very low wind in SA and the solar is fading into the evening, so the electricity consumption in SA is supported mostly by thermal (gas and liquid) but also a visible pink slice (from battery output).
5)  This is all complicated more by current network limits meaning that SA is exporting to VIC despite the price difference (i.e. 'counter-price flow').
A couple additional notes…
(A)  Network outage
Not shown here, but quick reference to ez2view shows that the 'V::S_SETB_TBSE_2' constraint equation is bound … as part of the 'S-TBSE' constraint set, which marks the outage currently running on one South East-Tailem Bend 275kV line (One Black Range series cap I/S).
The 'Constraint Sets' widget there shows that particular constraint set is currently forecast to be invoked through until the evening of Thursday 17th August 2023 … but we see in this filtered view that there are other constraint sets with the potential to affect Heywood extending out a couple more weeks: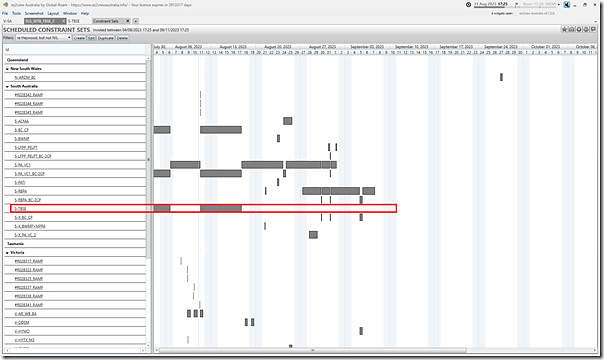 (B)  LOR conditions, and forecasts.
In the 'Market Notice' widget within NEMwatch above we can see a number of notices from AEMO about LOR conditions forecast.  Here's a snapshot of the 'Forecast Convergence' widget in ez2view focused on forecast LOR conditions for SA for today and a week into the future: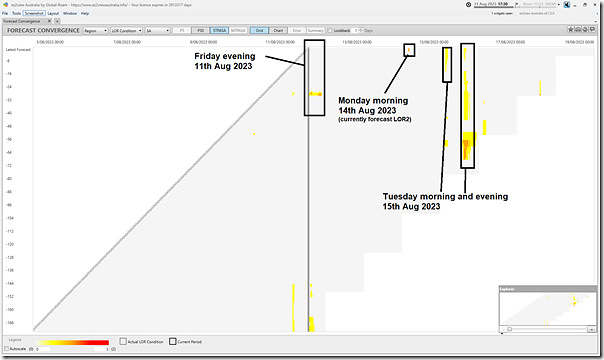 As can be seen in the grid above there have been several periods where forecasts for LOR2 level conditions were apparent for periods of time … currently for next Monday morning 14th August 2023.
Watch this space…
PS1  Volatility continued to 22:05
Data for the 21:00 dispatch interval has arrived and my phone is still buzzing for many of the dispatch intervals since 17:00 (SMS alerts set for prices above $1,000/MWh)  … with the price for 21:00 at $9,899.50/MWh.
Last spike (above $1,000/MWh) Friday evening was at 22:05 (to $16,575.16/MWh) … and it started again at 04:05 and 04:50 the next morning.
PS2  Trip at Snapper Point
What's not going to help, in this respect, is the trip of all units at Snapper Point at 20:35, as noted in Market Notice 109283:
——————————————————————
MARKET NOTICE
——————————————————————-
From : AEMO
To : NEMITWEB1
Creation Date : 11/08/2023 20:57:28
——————————————————————-
Notice ID : 109283
Notice Type ID : POWER SYSTEM EVENTS
Notice Type Description : Emergency events/conditions
Issue Date : 11/08/2023
External Reference : Non-credible contingency event – SA region – 11/08/2023
——————————————————————-
Reason :
AEMO ELECTRICITY MARKET NOTICE.
Non-credible contingency event – SA region – 11/08/2023
At 2035 hrs the Snapper Point power station generators GT1, GT2, GT3, GT4, GT5 tripped.
AEMO did not instruct load shedding.
AEMO has not been advised of any disconnection of bulk electrical load.
The cause of this non credible contingency event is not known at this stage.
Manager NEM Real Time Operations
——————————————————————-
END OF REPORT
——————————————————————-
Note that (with respect to Snapper Point) two Market Notices followed:
Creation Date : 11/08/2023 21:14:09
Notice ID : 109285
Reclassification of a Non-Credible Contingency Event: Trip of Snapper Point power station generators 1,2,3,4,5
and then…
Creation Date : 12/08/2023 09:38:07
Notice ID : 109292
External Reference : Cancellation of the Reclassification of a Non-Credible Contingency Event: Trip of Snapper Point power station generators 1,2,3,4,5