We'd speculated about the possibility earlier in week, and it truly came to pass early on Friday evening 7th July 2023, as shown in this zoomed snippet from the pre-configured 28-day view for NEM-wide wind production from ez2view online here: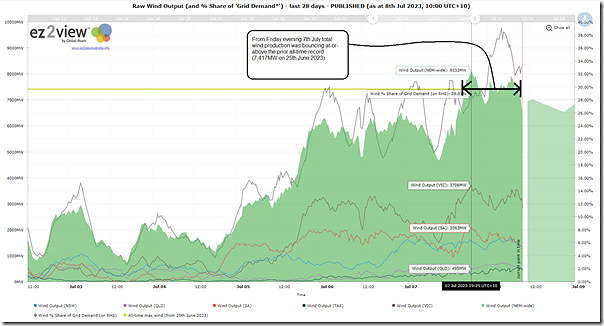 The forecasts were that the new peak would be in the early hours of Saturday morning … but the chart above show2:
1)  the new highest point to be 19:20 Friday 7th July evening (i.e. InitialMW for the dispatch interval ending 19:25).
2)  At the level of 8,132MW … which was 715 MW higher than the recently set (and now superseded) all-time maximum of 7,417MW from 25th June 2023.
(A)  How much higher could it have been without curtailment?
Would need to use 'next day public' data available from tomorrow (i.e. Sunday 9th July) to see if this morning's yield could have been higher still (except for curtailment).
Towards the end of Q2 (on 24th June) we'd belatedly shared some results about curtailment from GenInsights Quarterly Updates for the earlier Q1 2023 in noting about 'increasing curtailment of wind and solar across the NEM'.  This next few weeks we'll be crunching numbers again for the next quarterly instalment (for Q2 2023) so are keen to see how these patterns are developing.
(B)  Longer term trend of wind harvest
Opening up our longer-term trend of monthly wind production patterns developed for NEMreview v7,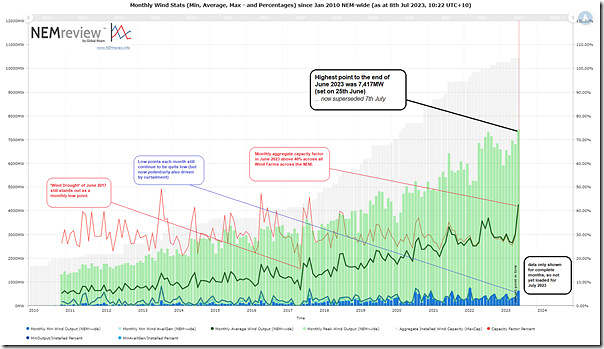 (those with a licence to the software can open their own copy here).
This does not yet contain any data for (the incomplete month of) July 2023 – but is still useful for highlighting the trend in growth in wind capacity and peak/average/minimum output.