Whilst walking around the CS Energy portfolio (i.e. after looking at C4 and then C3), it's also worth noting that Kogan Creek returned to service overnight – as seen in this snapshot from the 'Unit Dashboard' widget in ez2view: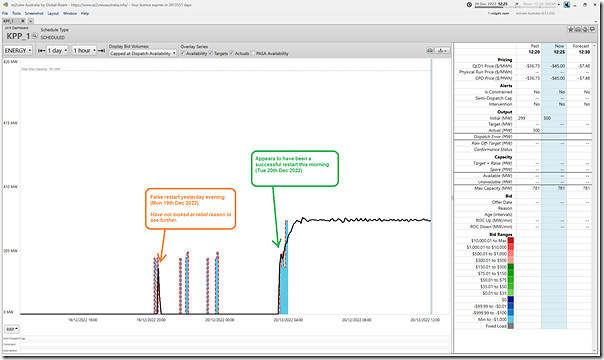 On 12th October we'd noted that 'Kogan Creek Power Station major overhaul extended to 18th December (unexpected stator and rotor issues)', so that means its RTS was slightly later than expected at that time.
There was also the false start Monday evening (19th December – yesterday) around 20:00 seen in the chart above.
PS1 – offline 20th and online 21st December
Have not looked specifically, but noted it was offline at 21:40 on Tuesday 20th but back online at 01:10 on Wednesday 21st December.  The 'return to service' operations after long outages are complex to manage, so it's not uncommon to see a false start or two in the process (but note I have not looked at the specifics in this case).