Given our prior coverage of the Callide C4 Catastrophe and recovery from 25th May 2021 onwards, worth a short article today to note that CS Energy posted this update on LinkedIn today, noting that the replacement generator transformer had arrived onsite: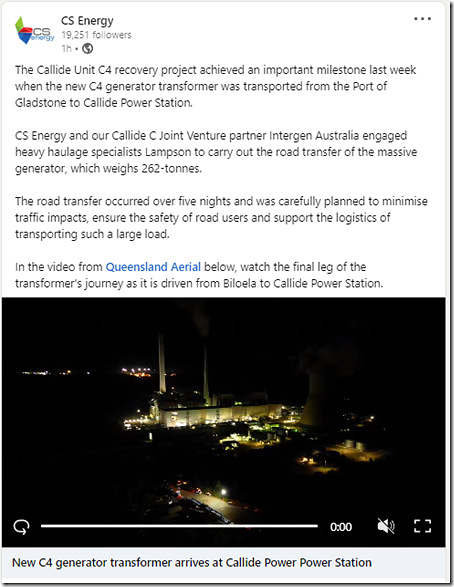 There's a video accessible at the link above.
—
On the CS Energy website, yesterday there was the Media Release 'New C4 generator transformer arrives at Callide Power Station' published that noted:
'The Callide Unit C4 recovery project achieved an important milestone last week when the new C4 generator transformer was transported from the Port of Gladstone to Callide Power Station.
… The generator transformer arrived at the power station on the evening of 16 December.'
… and also included the video.
Two other quick notes:
(A)  Expected Return to Service Date for Callide C4
In the Media Release above it notes:
'Returning Unit C4 to service is a unique and complex project, and the current forecast return to service date is April 2023.'
Using the 'MT PASA DUID Availability' widget inside of ez2view, we see that the specific return to service expectation is 7th April 2023: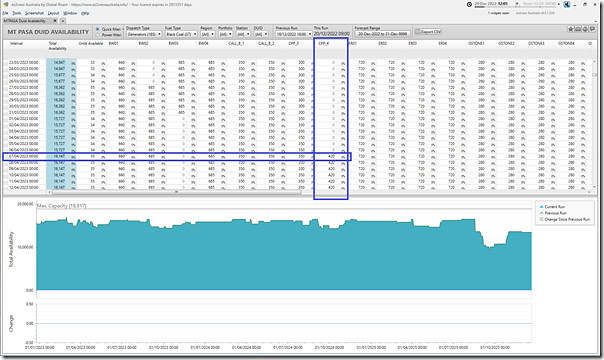 Back on 30th December 2021 I noted that this was the expected return to service date … so not changed over the past year.
(B)  Engineer's Report on the Cause?
I've not seen anything yet on the release of the Engineer's Report into the cause of the explosion.
I have some vague recollection the target date for that was around the end of 2022, but I might be wrong on that one…?