I've been away for a couple weeks, out of the NEM (literally and metaphorically) and at back at work today, trying to catch up on all that's been happening.
A burst of volatility in ENERGY market prices for the NSW region has provided one reminder of the ongoing dynamics at work in the NEM: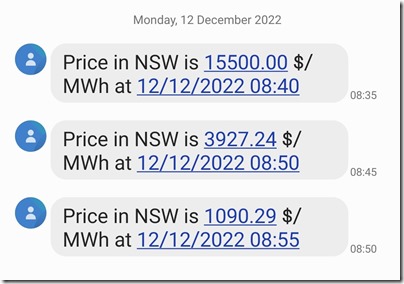 Here's a snapshot from NEMwatch at the 08:55 dispatch interval: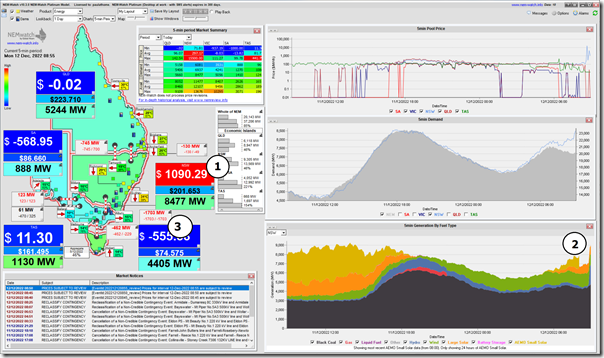 With respect to the annotations:
1)  This captures the third dispatch interval above $1,000/MWh this morning;
2)  Not also the spike in output from hydro generation within the NSW region; and
3)  Note the 'counter-price flow' over the VIC-NSW interconnector, with constraints making the interconnector flow south despite the ~$1,500/MWh expensive-to-cheap price gradient suggesting it should flow the other way.
A quick look at the higher-end ez2view dashboard shows that the 'N-RVYS_2' Constraint Set is again invoked today:
1)  an outage on the Ravine to Yass (2) 330kV line lasting just until this afternoon (according to current schedule).
2)  Worth a reminder that we previously published this detailed 'Case Study of the 'N::N_UTRV_2' constraint equation – Friday 28th October 2022':
(a)  Which uses the new 'Constraint Dashboard' widget in ez2view;
(b)  And focuses on one of the Constraint Equations within that Constraint Set.
(c)  It's this same 'N::N_UTRV_2' Constraint Equation that is bound again this morning.
For those with the ez2view software, might be worth setting a Notification (alert) on the the 'N-RVYS_2' Constraint Set becoming invoked!
Another example (if we needed one) of the complexity inherent within the NEM!
PS1 at 15:37 – why no Negative Residue Management?
One of our readers has asked us that question, and another reader has answered that question by pointing at Market Notice 104423 published at 15:02 this afternoon as follows:
——————————————————————-
MARKET NOTICE
——————————————————————-
From : AEMO
To : NEMITWEB1
Creation Date : 12/12/2022 15:02:25
——————————————————————-
Notice ID : 104423
Notice Type ID : MARKET SYSTEMS
Notice Type Description : Status of Market Systems
Issue Date : 12/12/2022
External Reference : SERVICE INTERRUPTION – RESOLVED
——————————————————————-
Reason :
AEMO's experienced a service interruption to the negative residue management (NRM) process from 1 December 2022 until 12 December 2022.
The interruption occurred following a planned site transfer and the NRM process failed to correctly restart. The issue was reported to AEMO and following investigation, the NRM process was restarted late this morning and is now functioning correctly.
For further enquiries please contact the AEMO Support Hub
Phone: 1300 236 600
Email: supporthub@aemo.com.au
AEMO IT Duty Manager
——————————————————————-
END OF REPORT
——————————————————————-