A short (and incomplete) article for Wednesday 10th August 2022 to record a barrage of SMS-based price alerts I've received through the middle of the day noting prices elevated in several regions, but particularly in Tasmania – here's a list of alerts on prices for ENERGY: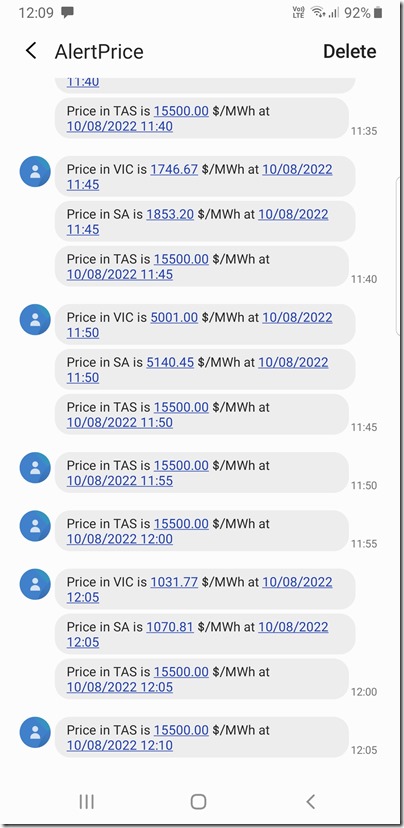 Here's a NEMwatch snapshot showing the 12:20 dispatch interval, with prices elevated in the three southern regions: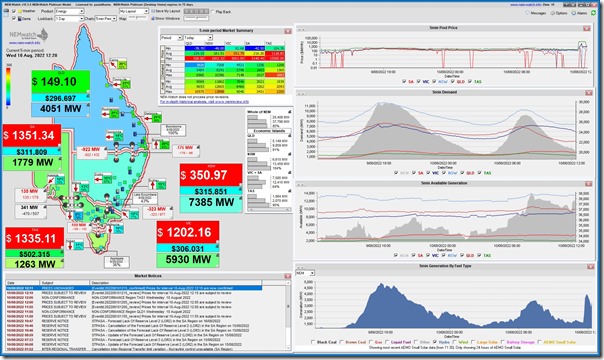 Nothing immediately jumps out at me in the four trend charts on the right, except for:
1)  A drop in Available Generation in the QLD region from 11:30 (i.e. not where the volatility was experienced); and
2)  A significant/sudden ramp up in hydro output across the NEM in the 11:40, 11:45 and 11:50 dispatch intervals (i.e. InitialMW for each of these)
But it's only when we delve deeper into ez2view with the snapshot for the same (i.e. 12:20) dispatch interval that we see that the fast FCAS contingency prices (both Raise and Lower for 6 seconds and 60 seconds) are at the Market Price Cap everywhere: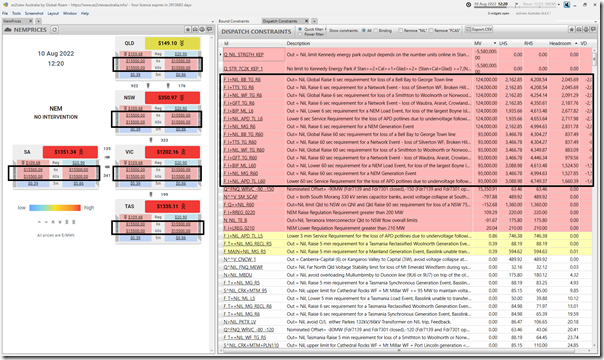 In the 'Dispatch Constraint' widget on the right we see many FCAS constraints bound with high marginal values (and violating)  … i.e. hence high prices at the MPC.
—
There's clearly a few things going on here!
PS1 due to a 'Failure Affecting Market Dispatch and Pricing'
Market Notice 100839 was published at 13:11 as follows:
——————————————————————-
MARKET NOTICE
——————————————————————-
From : AEMO
To : NEMITWEB1
Creation Date : 10/08/2022 13:11:35
——————————————————————-
Notice ID : 100839
Notice Type ID : MARKET SYSTEMS
Notice Type Description : Status of Market Systems
Issue Date : 10/08/2022
External Reference : FAILURE AFFECTING MARKET DISPATCH AND PRICING
——————————————————————-
Reason :
FAILURE AFFECTING MARKET DISPATCH AND PRICING
Today from trading interval 1135 hrs, AEMO observed a large change in FCAS requirements for all fast and slow contingency ancillary services. This also resulted in violation of those FCAS constraints and market price caps for those services in all regions and for energy in Tasmania.
AEMO has reversed an approved change to NEMDE that was implemented from trading interval 1135 hrs. Dispatch appears to be operating correctly from trading intervals 1240 hrs
AEMO is continuing to investigate.
Manager NEM Real Time Operation
——————————————————————-
END OF REPORT
——————————————————————-
Will be interested to learn more…
PS2 might have been related to CHG0074595?
One of our team flagged that it might have been this change which was about:
'AEMO will upgrade the NEMDE solver used in Production for Dispatch, 5-minute Predispatch and Predispatch to a new version. The change is to address an internal resource allocation issue within the software and there should be no external visibility of this upgrade. There are no changes to the NEMDE Formulation. The software upgrade requires no outage.'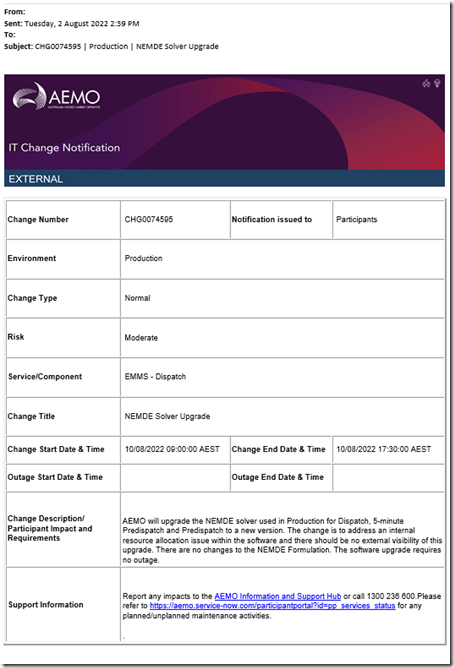 PS3a prices revised
These prices were all subsequently revised … will add more details in here later…
PS3b AEMO declares Scheduling Error
On Friday 12th August the AEMO published 'Scheduling error declaration' here (download it) – and also in their AEMO Communications newsletter also noted the following…
AEMO declares scheduling error
AEMO has today declared a scheduling error (linked above) for a dispatch error on Wednesday 10 August, which resulted in high volumes of contingency Frequency Control Ancillary Services (FCAS) requirements for the National Electricity Market (NEM) across 13 five-minute trading intervals (1135 hrs to 1235 hrs).
The FCAS requirements were unable to be met in full, violating the requirements and resulting in prices at or near the market price cap of $15,500 for these services in all regions. The electricity spot price in Tasmania was also affected. AEMO identified that the issue commenced after an IT change to the NEM dispatch engine. AEMO reversed the software change, which resolved the issue at around 1240 hrs.
AEMO has revised the energy and FCAS prices during these trading intervals using the reinstated version of the dispatch engine. Dispatch targets and FCAS enablement levels are unaffected and AEMO recognises there may be individual impacts, which AEMO will be working through.
AEMO will report on the scheduling error and surrounding circumstances after completing a full investigation. The report will assess the impact of the error on central dispatch outcomes, and is also expected to include recommendations on:
• Improved communications with the market
• IT change control
• Manifestly incorrect input procedures
Please email if you have questions at nemintervention@aemo.com.au .
PS4 discussion elsewhere
Josh Stabler from EnergyEdge wrote about this on Wednesday via LinkedIn here, and the comments collecting underneath might be of interest to readers.
I also saw that Colin Packham wrote in the AFR about the incident here for Friday's print edition: