This is Article 2/3 this evening, and follows Article 1/3 (which spoke to the new all-time record for electricity demand set in QLD this evening). 
In this article, I'd specifically like to highlight a long run of extreme prices in QLD (i.e. above $1,000/MWh)
1)  The pricing run began at 17:30 with the price at $1,190.63/MWh as shown in this snapshot from NEMwatch that was also shown in Article 1/3 because of the new all-time-record in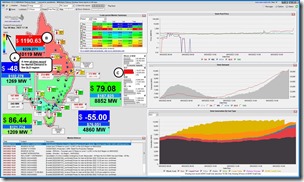 I've deliberately made this image smaller here as it's not the focus … though you can click to open a larger size.
2)  What's more important is the longer run of volatility seen in this chart from NEMwatch later looking backwards.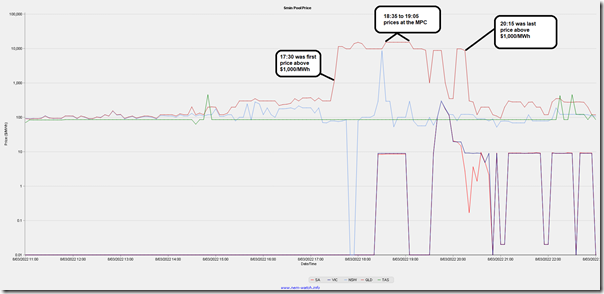 3)  We see that the run of extreme volatility lasted until the 20:15 (i.e. almost 3 hours later), where the price (at $8,679.33/MWh) was the last of the prices >$1,000/MWh.
4)  In between the period, there were a number of prices at the $15,100/MWh Market Price Cap
5)  Even prior to this time, prices had been around or above the $300/MWh cap trigger price for a number of hours.
As a result of all of this, the Cumulative Price for the QLD region has climbed to above $564,000 … so just under half way to the new Cumulative Price Threshold in the post Five Minute Settlement environment.