As short note this afternoon to report that I've not seen much else about what's happening with the 'Victoria Big Battery' nearby to Geelong today.
As I type this note, this Advice from Emergency Victoria (issued Sunday morning at 07:40) appears to be the most recent advice, still – and it notes that the fire was still burning and not yet under control as at that time this morning (~46 hours after the first started on Friday morning):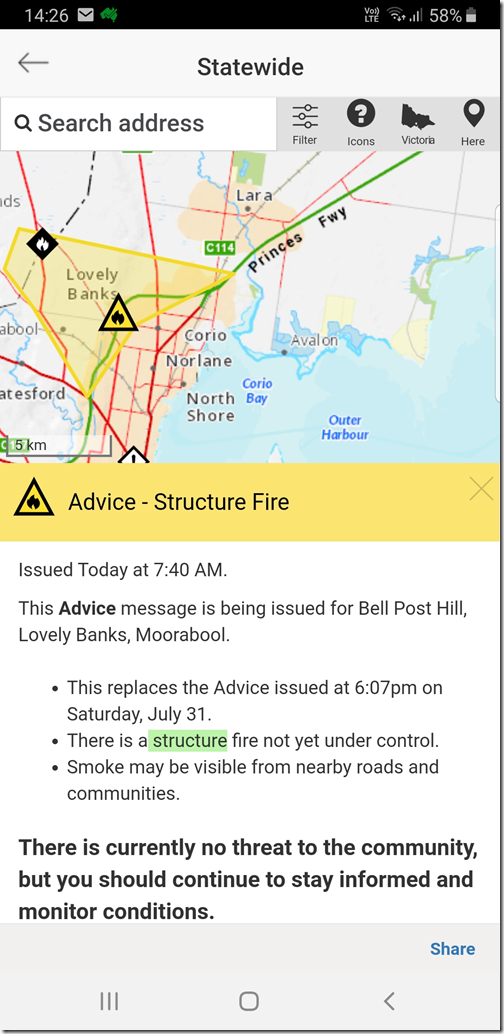 One of our readers has pointed me at this article 'Firefighters battle large battery fire near Geelong' from Country Fire Authority on Friday evening, 30th July.  Several things were of interest in this article, as highlighted below:
"We've got lots of specialists on site…all that expertise helps us come up with some really good decisions about what we need to do to respond to these types of fires," he said.
"There was one battery pack on fire to start with, but it did spread to a second pack that was very close to it.
"The plan is that we keep it cool on the outside and protect the exposures so it doesn't cause any issues for any of the other components in the power station.
"We're starting to get to the point where most of it has burnt away…we'll just keep monitoring it overnight and keep dealing with it as we have been all day to ensure that we minimise anything that's coming offsite and any risk to the community."
The cause is undetermined and will be investigated once it is safe to do so.
There's nothing further, yet, under 'Latest News' here.  Will keep an eye out, to try to understand more…