I've been away for a few days, and see that Daniel noted that Yallourn unit 3 returned on Friday afternoon.
Back when I last looked (last Saturday 19th June) the expectation was that Yallourn units 2 and unit 4 were going to return for tomorrow, Monday 28th June 2021.  Well, turns out that Yallourn unit 2 has come back a day early – this afternoon (Sunday 27th June 2021) from 14:00.
Here's a snapshot from the 'Unit Dashboard' widget in ez2view at 14:55 today: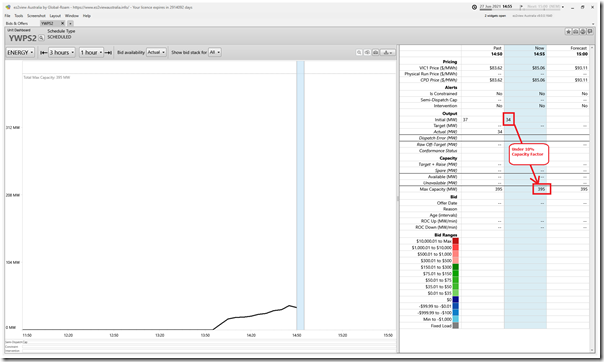 We see that the output is creeping up slowly, under 10% capacity factor currently.
With reference to Friday's media release from EnergyAustralia (25th June), I note that they say:
"Coaling recommenced as of Friday 25 June and these activities are being conducted in line with detailed risk assessments, consultation with the Victorian mining regulator and in strict accordance with our health and safety plans."
… and that in Thursday's note (24th June), they say:
"Currently, Yallourn continues to operate on minimum generation through one unit. This has occasionally been increased to two units and that's helped meet the evening energy peak.
With unit 2 back online this afternoon, that makes it three units online … which will help for evening peak in demand as it looks like not much wind in VIC (or SA) currently: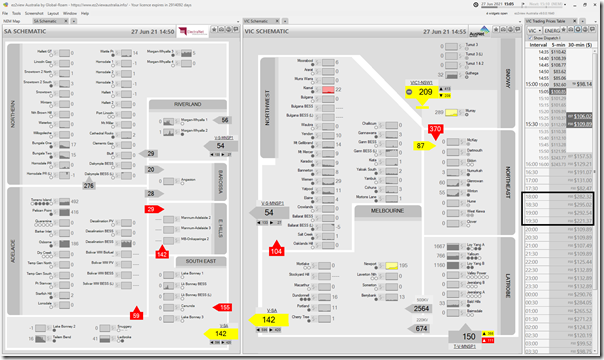 At least, in this snapshot from ez2view above, the P30 predispatch price forecasts for VIC this evening are lower than they were a week or more ago with Yallourn limping along on 1 unit.