Alerted  by a tweet from someone at Pacific Hydro today that wind supplies had exceeded 90% of South Australia's electricity supply on 2 days last week, we were curious to have a look further.

Powering up NEM-Review, we were able to quickly generate the following trend, as we were curious to see what was meant by the tweet: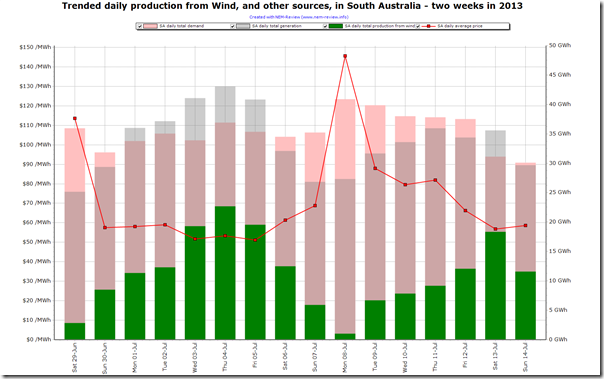 We can clearly see that, over the 2 week period selected to yesterday, there were some days when the wind farm output was significantly higher than others, and that it did represent a significant proportion of SA's supplies and demand – but on no day does the output seem to be approaching 90% of either:
(a)  total energy supplied by all generators for the day (the grey bars); or
(b)  total metered demand consumed by energy users across South Australia.
We presume that Pacific Hydro might have been referring to some smaller time period within two of the days above (maybe for discrete 5-minute dispatch intervals, or 30-minute trading periods), and that the wording in the tweet is just ambiguous.
If someone could help us out (by adding a comment below, or contacting offline – tel 07 3368 4064) we'd be interested to have a look further later in the week?