Today's brief post is more of a question than a post, really.  I would really appreciate your thoughts in the comments box below (or offline, if that suits you better).
You see I have been watching the NEM unfold through our NEM-Watch dashboard, and other things, and have been frequently seeing Victorian demand down the dark-blue end of the sliding colour scale, even during the day – such as today: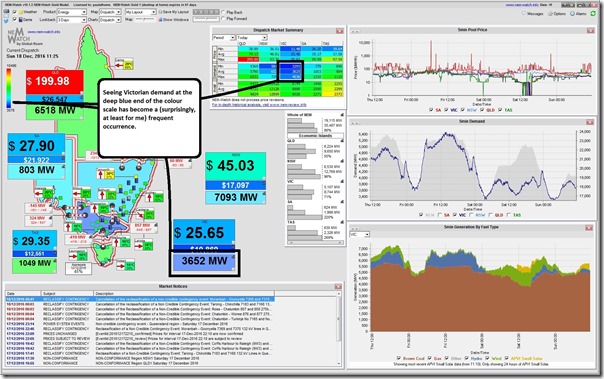 Now, for readers without their own paid licence to the full NEM-Watch application, you can have a look at similar data through the NEM-Watch Consumption Widget, which is located:
1)  On the Energy Consumer's Australia site (our sponsors with this widget);
2)  Here, on the NEM-Watch portal – including an explanation of the numbers; and
3)  On a number of other sites where people have chosen to embed the widget (no charge).   Might be something of interest to you, as well?
Just keep in mind that the full NEM-Watch product focuses on "Scheduled Demand" whereas the Consumption Widget focuses on "Operational Demand" (which is closer to total consumption).  The measures are a bit different, but the message is the same – Victorian demand is very low, and has been for some time.
How low, you ask?
With NEM-Review I have produced the following trend (since January 2010) of daily maximum and minimum demand in Victoria.  As you can see, there's a continuing trend of reduction in minimum daily demand: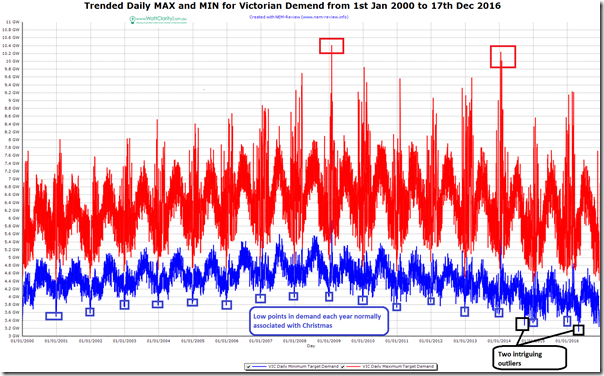 We can clearly see the two big peaks in VIC demand, associated with:
1)  the Black Saturday bushfire period in summer 2008-2009 – peaking over 10,400MW on 29th January 2009.
2)  the heatwave period of summer 2013-14 – peaking over 10,200MW on 16 Jan 2014.
At the other end of the scale, we see that the lowest demand period in the year is typically associated with the Christmas period – when not even the mouse is stirring, etc…
Of particular note on the low side are:
1)  the low, low point down below 3,300MW on 28th Sept 2014;
2)  an even lower demand level on 1st May this year below 3,200MW; and
3)  a consistent bunch of days in the past few months when there have been 10 days with the demand dropping below 3,300MW.
In terms of the most recent lull, we know that:
1)  there are problems continuing since the power troubles on 1st December led to damage at the smelter which has made a troubled commercial situation worse (the latest being today's note of a mercy dash by politicians to Alcoa corporate HQ).
2)  Back in 2011, I posted this list of reasons why demand had been declining across the NEM.
3)  We also know that, when we are talking about minimum demands, it' can't be as a result of solar PV – because minimum demands occur at night time (hence please leave that hobby horse alone in comments below).
4)  With respect to the NEM-Watch snapshot above (which is during the day) we see how Melbourne's weather has been very mild for a December period.
I am interested in real insights you can shed about why minimum demands seem to have ratcheted lower in Victoria (moreso than in SA, NSW, TAS and QLD perhaps) in recent months?
Thank-you, in advance.