One of the most disruptive impacts on Australia's electricity system over the past decade or so has been the rapid uptake of air conditioners – a consumer driven response to the introduction of inexpensive products from China.
Proportion of Australian Households with air conditioners 1990-2014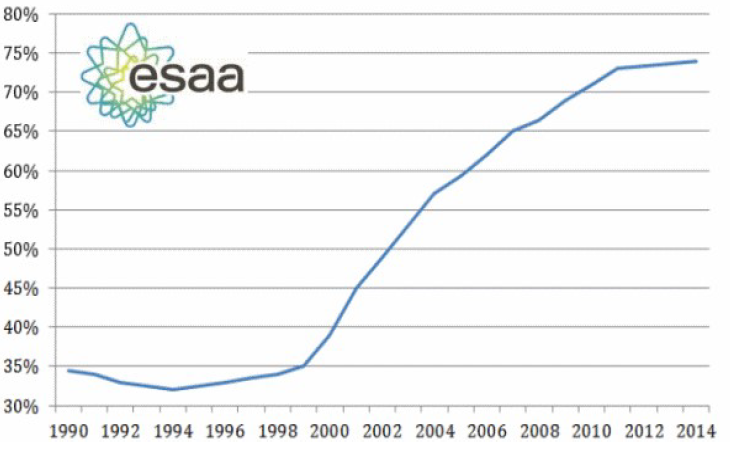 The impact of this has been the requirement for energy networks to increase their ability to cope with peak demand… a burden they have only been too happy to comply with, with some suggesting an over-zealous response has led to 'gold-plating' of some networks. Many billions of dollars have been spent over the last decade, upgrading our ability to meet ever-increasing peaks. These costs have been passed through to consumers – both those who have benefited from air conditioning and those who have not.
While policy makers are typically slow to react to disruptive events (e.g. air-con efficiency standards only tightened towards the end of the uptake), the fact is that the impact on the energy sector was being effected by actors one or two steps removed from the sector itself. Homeowners bought air conditioners to meet a consumer want. Air-conditioner suppliers and retailers sold units out of self interest. Neither had much incentive to think about the cost impact to the electricity network, where perhaps more appropriate network pricing structures and demand response measures might have led to lower network augmentation costs and a more equitable outcome for consumers.
And so it is now with solar and storage.
As chief scientist Alan Finkel noted in his preliminary report into electricity security, the "unstoppable" move toward distributed solar and storage is a consumer driven demand. Again, it is homeowners, and to an increasing extent businesses and large energy users, and the suppliers and retailers of solar and storage systems, of whom many are one or two steps removed from interests of the electricity sector, that are driving the next wave of disruption, which will continue for at least a decade to come.
Policy responses are required. Not in the future, when hindsight can make a genius of any fool, but now… as a matter of urgency. Take for example capacity mechanisms. While the NEM agonises over whether it is an appropriate response to the rise of distributed and semi-scheduled generation, we have had a capacity mechanism here in WA since 2006. There is nothing controversial about them – most energy markets around the world have some form of capacity mechanism or other. But they do need to be fit-for-purpose. The WA capacity mechanism was introduced in 2006, largely in response to supply-side shortfalls a few years earlier. At this time, basing the capacity mechanism on constructing a diesel fired OCGT was probably a sensible idea. It used appropriate technology of the day and met the construction timeframes believed to be required to head off future supply shortfalls. But a decade later, besides some tinkering at the edges, the mechanism remains the same. Is it appropriate in 2016? Unlikely. Will it be appropriate in 2020 and beyond, when the "unstoppable" force of consumerism delivers an air-conditioner-like-impact from solar and storage? Almost certainly not. Decisions made now have a chance of mitigating poor efficiency outcomes being driven by consumers who don't have appropriate incentives to do otherwise.
Of course… had the explosion in air conditioning uptake occurred 15 years later, or the solar and storage disruption begun a decade or so earlier, we might have seen a gloriously unintended coincidence of complementary technologies. Instead, we have spent billions on upgrading networks to accommodate peak demand, and now ponder how to pay down all that network capacity, as the demand disappears behind the meter (solar) and the peaks flatten out (storage). Like delivering the punchline of a bad joke… timing is everything.
About our Guest Author
Shane Cremin is an energy specialist with an understanding of how government policy, economic regulation and other external influences impact investments and commercial operations within markets.

Shane has been the Chief Executive Officer of Infinite Energy since early 2016.


Further background to Shane can be found on Shane's LinkedIn profile.