With energy and greenhouse continuing to be under the spotlight during 2015 we thought it useful to have a look at what happened in the National Electricity Market (NEM) during 2014.
[This is a summary of a more detailed paper that I put together which can be downloaded at www.greenmarkets.com.au .]
Electricity consumption (measured as scheduled demand from NEM-Review) in the NEM continued to fall in 2014, dropping by 1.1 per cent (2,098 GWh) compared to 2013 levels.  Electricity consumption fell in all states except Queensland which increased by 0.9 per cent.  Victoria experienced the biggest fall of 3.5 per cent due largely to the closure of the Point Henry aluminium smelter at the end of July 2014.
Figure 1)  Metered scheduled demand from 2006 to 2014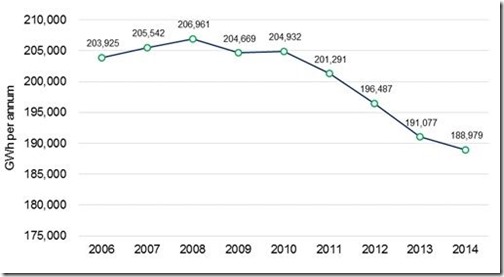 The reduction in electricity consumption masks the contribution that solar and energy efficiency activities have made. We estimate that solar installations supported by the Renewable Energy Target and energy efficiency activities supported by the various state based schemes will have contributed 1,877 GWh in 2014 or 89 per cent of the observed reduction in demand for 2014.
Nearly 700 MW a year of roof-top solar PV was installed in NEM states and created certificates under the Renewable Energy Target over the 2013 and 2014 period. This is estimated to have generated an additional 963 GWh in 2014 and accounts for 46 per cent of the reduction in overall consumption. The contribution of solar hot water and an array of energy efficiency activities supported by state based energy savings schemes (in Victoria, NSW, ACT and South Australia) have also contributed to lower electricity consumption (further 914 GWh).
Figure 2)  Reduction in electricity demand (2014 cf: 2013)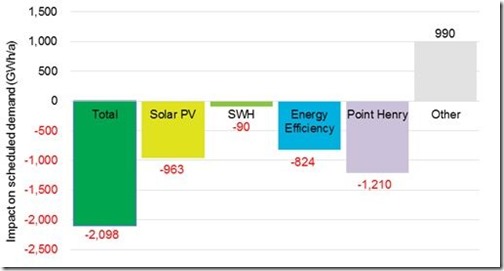 There was a dramatic drop in the level of renewable generation in 2014, falling from 13.8 per cent share of the market to 11.8 per cent. This drop is due to a 25 per cent reduction in hydro generation levels and was only slightly offset by a 6.4 per cent increase in wind generation. Brown coal and gas-fired generation increased their output making up for the lower hydro generation. Brown coal-fired generation increased by 4 per cent and gas-fired generation increased by 11.5 per cent in 2014.
Figure 3)  Differences in metered generation by fuel (2014 cf: 2013)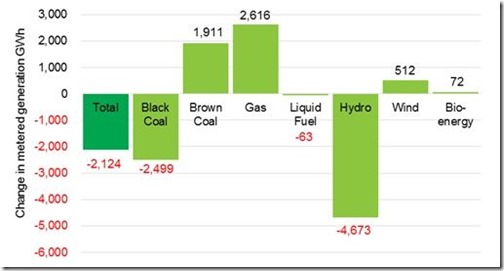 Wind generation increased by 6.4 per cent largely due the commencement of three new wind farms and a full year's output of several wind farms that commenced operating late in 2013. Overall 2014 was less windy than 2013 with those wind farms that were fully operational on 1 January 2013 producing 11 per cent less in 2014 than in 2013. The average capacity factor for these wind farms dropped from 35.1 per cent in 2013 to 31.1 per cent in 2014. Wind accounted for 34 per cent of South Australia's total generation in 2014, slightly higher than the 32 per cent achieved in 2013.
Three new wind farms started generating for the first time in 2014; Boco Rocks (NSW), Taralga (NSW) and Snowtown 2 North in South Australia. Five fossil fuel plants ceased generating in 2014.
Greenhouse gas emissions increased by 1 per cent in 2014, notwithstanding a 1.1 per cent reduction in electricity consumption. With the increase in fossil fuel generation, the emission intensity of the NEM increased by 2.1 per cent.
---
This article is based on work originally published here and follows reporting of this at other locations such as at RenewEconomy.
It has been included on WattClarity because it adds to the articles previously posted here about declining demand in the NEM (and is also a useful update to the analysis completed by Hugh Saddler for the Australia Institute in Dec 2013).
About our Guest Author
Ric Brazzale is Managing Director at Green Energy Markets.

Green Energy Markets is a dynamic research and advisory business with a focus on reducing greenhouse gas emissions, increasing renewable energy and distributed generation, and improving energy efficiency.  The aim of the company is to inform clients' decision making through the provision of rich environmental market insights

Connect with Ric via LinkedIn here.

.
---