Wind sometimes blows, and sometimes does not.
Over a number of years, we have posted a number of articles analysing wind farm output, and particularly looking into wind diversity as a greater number of wind farms have come online.  The RET is a volume-based incentive (i.e. MWh not MW) so thoughts of capacity remain the domain of the broader NEM, rather than a question tied up within the (still very topical) Mandatory Renewable Energy Target.
Our interest win how wind output is trending has increased further as a result of us linking our BBQ give-away competition this summer to the peak aggregate wind farm output across the NEM.  Perhaps you'd also like to email in your entry to have a chance to win?
To give everyone a starting chance of winning their new portable BBQ this summer, we powered up NEM-Review and generated this trend of aggregate output (max, min and average) of wind farms across the NEM: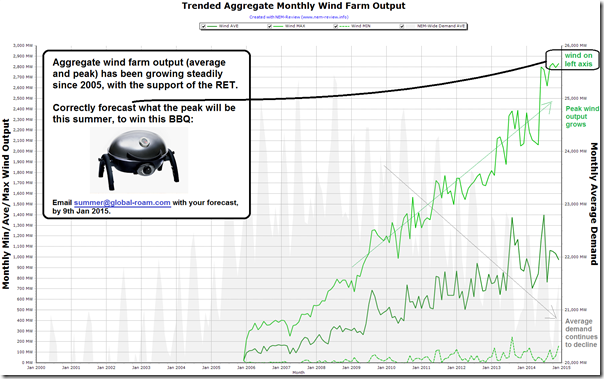 For those wishing to have a chance to win one of 7 BBQs we're giving away this summer, the chart above will provide some hints about where the peak Aggregate Wind Farm Output will be expected to land for the Extended Summer Period (1st Dec 2014 to 31st March 2015).
(a)  From the perspective of the RET, the trended average output line is most important

(b)  For those wanting to win the BBQ, the peak output is the one to watch (see here for more details).
More analysis about all three green lines will be posted on WattClarity, as we have time this summer.