I'm running out of time – prior to my talk at All Energy this Thursday.
In order to provide the basis for some objective commentary about how Demand Response, and storage, might play a role in a future world high on intermittent (wind and solar) supply, I have been crunching some numbers – as noted in this post (about the demand shape), and this follow-on (about spillage) last week.
The shape that "Scheduled Demand" would take in this future 10x world is certainly different to that which currently applies – representing a challenge for "keeping the lights on" through a combination of other technologies including:
1)  Storage, reinjected into the grid at times that would help to moderate the peak demand that would otherwise be experienced;
2)  Demand Response, to moderate times of "super peak" demand; and
3)  Other forms of (more controllable) generation.
In a word, the challenge would be summed up as "Peakiness".
I've been scratching my head, trying to work out the most effective way to deploy storage and Demand Response (from a system-wide perspective over the full year modelled) – playing Adam Smith.
One chart that particularly jumped out at me was the following, highlighting how significantly the shape of demand curve will have changed in this future world, with ramp rates being considerably higher – both up, and down – than is currently experienced: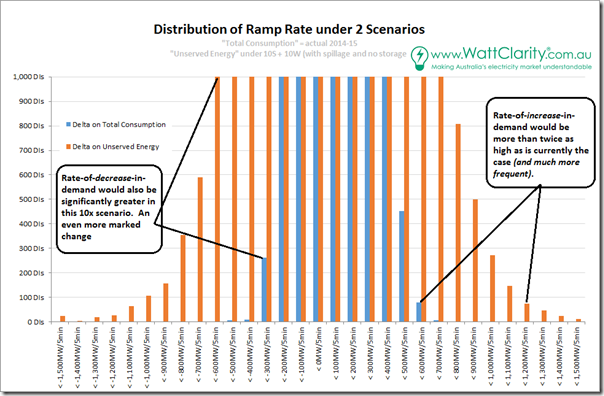 Returning to my "clapped out 2nd car" analogy to represent the fleet of dispatchable plant that will still be required (to the limits of what storage and demand response cannot otherwise provide for), my suspicion is that the current fleet of thermal assets would be hastened into retirement if they were collectively asked to be as dynamic as this chart would indicate in this 10X world.
Of course, by the time we have 10x the amount of solar and wind installed (if that were to happen) the existing fleet of thermal assets would have long since retired.
The engineers choosing the new fleet of plant to replace them will need to take the much higher, cycling-induced creep and fatigue loading the above would represent into account in providing for the new fleet that will replace them…
Back to the presentation…