The past couple days have been remarkable for a number of reasons – with strong winds producing an amazingly consistent output from the installed wind farm capacity around the NEM, as shown here in this snapshot from NEM-Watch showing the 15:25 dispatch interval today (in the maps) and 7 days of history in the charts on the right: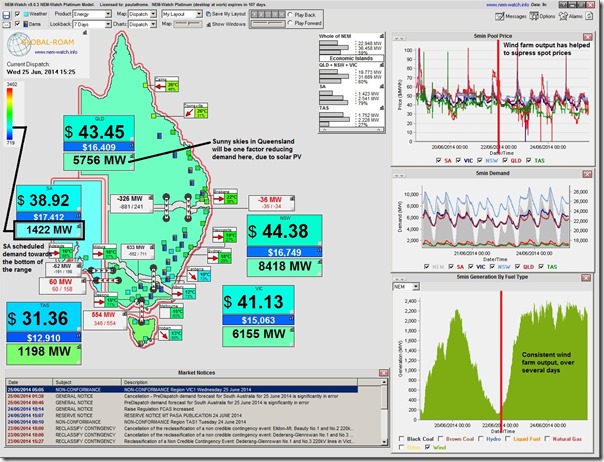 Seeing that the wind farm output seems to be capped around the 2400MW mark during this very windy week posed a question about how this maximum output has grown over time.
Hence, charging up our NEM-Review software, we were able to generate the following aggregate trends utilising Metered Generation from all Wind Farms (i.e. where AEMO has published data) across the NEM: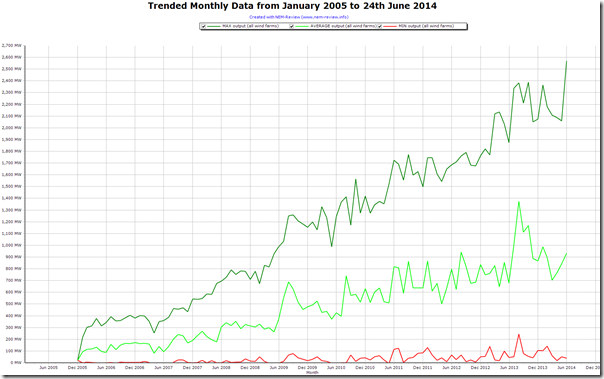 No surprise, really, that the green and the red lines on the chart seem to sum up much of the debate (perhaps better termed "shouting from opposite sides of the room"?) about the current RET Review process currently underway in the real world, and on social media.
---
In other news, unfortunately I could not be at the RET Review's session earlier this week when the results of the modelling were discussed.  Would have liked to have used that as an opportunity to update this earlier summary of modelling results, which readers have indicated they have found of value.