This morning we noted that total wind production across the NEM had dropped below 200MW (as low as only 109MW at 4:15AM NEM time today).
In a very familiar pattern, this lull in wind production followed some periods (several days beforehand) when the wind was blowing strongly, and hence generation from wind peaked.
This can be seen in the following snapshot from NEM-Watch: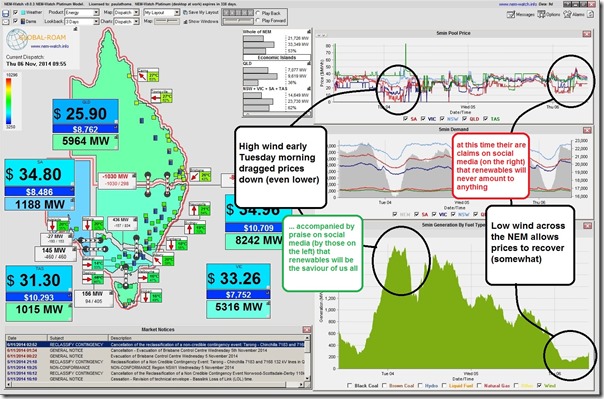 Amongst the noisy to-and-fro with the ongoing RET Review process, there's been an argument circulating along the following lines:
Left Corner Argument) Wind power is seen to be suppressing spot prices – therefore it is concluded that building more wind farm capacity will automatically result in prices moving lower still when the wind blows.
It's understandable:
(a)  when looking at the correlation shown above in NEM-Watch, that this conclusion is drawn
(b)  given the input assumptions made (as discussed here), that the modelling quoted with respect to the RET Review would also "prove" this.
(c)  It's also understandable, psychologically, that this argument seems to be in highest incidence on social media during the times in which the wind production is at a peak.
On the other side, the left corner stills and the right corner ramps up the volume on social media when the lulls in the wind inevitably happens – and we see the argument frequently made along the lines of:
Right Corner Argument) Given that there are times when the wind does not blow (and that this happens even though there is some geographical spread of installations), the value of these wind farms are severely discounted as some form of capacity is still required to be available to cover for when they (systemically) cannot operate.
Unfortunately we're not finding as much time as we'd like to consider a real world path between both extremes – though we do at least have the frequent cyclical reminder that this challenge remains one that is yet to really be addressed with respect to the NEM (or elsewhere, to my understanding).