With this post being made as a cooling thunderstorm rolls through "thunderstorm alley" (a.k.a. the Brisbane Valley) we review today and see that the demand in Queensland reached 8,371MW (at 14:50) and yet the NEM-wide demand did not break even the very modest 25,000MW level at any time during the day.
As shown in this snapshot from NEM-Watch from 15:05 (when the QLD demand was 8,348MW and the spot price above $1,500/MWh), lacklustre demand in the south kept the NEM-wide demand in check: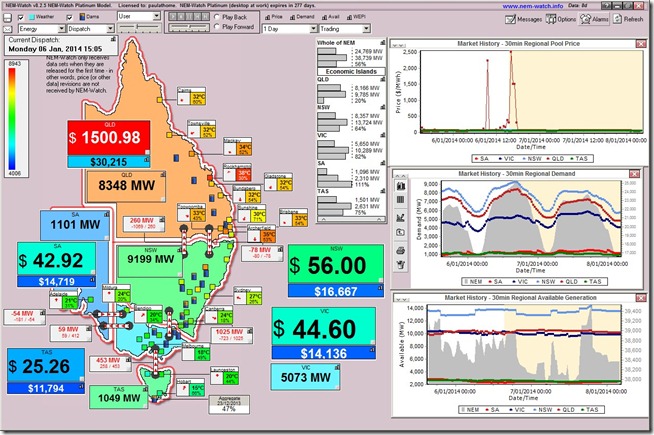 No joy (yet?!) for the bulls in our "peak demand forecaster competition" who're on the upper end of forecasts for what the peak demand will be this summer.
---
PS – In the 65 minutes since that snapshot was taken, the Queensland demand has dropped about 400MW – which, we presume, is mostly a result of the cooling temperatures, though storm-related loss of supply in the Energex and Ergon distribution areas will also have contributed.