A quick belated record of a spell of volatility* covering all 4 mainland regions of the NEM beginning 17:50 and running until 18:40 (so for 10 x dispatch intervals) on Tuesday evening 15th August 2023.
* as noted before, we're looking at alerts for prices for ENERGY above $1,000/MWh in any region.
Here's a snapshot from NEMwatch taken at 18:00 showing prices in three regions up towards the Market Price Cap (actually there, for NSW):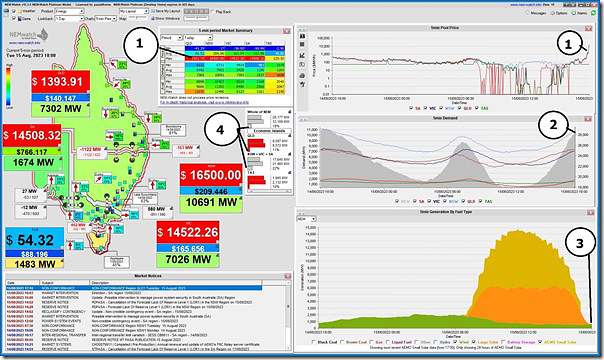 Quick notes, to correspond with the numbers above:
1)  We see at this time, that these prices were highest experienced that day.  They did not rise further (but did remain above $1,000/MWh for a period);
2)  This coincided with winter-style evening peak in Scheduled Demand
… though not huge (at only 28,177MW)
3)  This also coincided with a lull in VRE:
(a)  Solar has gone to bed; and
(b)  This coincided with wind harvest being relatively low (~ 600MW, so ~6% instantaneous Capacity Factor) across the NEM
4)  We also see the NEM-wide IRPM has dropped to 18% due to the somewhat tighter supply-demand balance:
(a)  Not low enough (i.e. <15%) to trigger our colour alerting
(b)  We're just in the final stages of completing GenInsights Quarterly Update for 2023 Q2 for a client presentation on Friday;
(c)  But this level (under 20%) will be flagged for the next iteration of the report for 2023 Q3.
(d)  Incidentally note that the QLD region had a relatively tighter margin in its 'Economic Island' but was supplying exports to the NSW+VIC+SA 'Economic Island' with their 10x higher price.
Nothing further at this point …