Could not help but notice the elevated prices across the mainland regions this evening, as demand increases by approximately 4000MW over 3 hours this evening in response to lighting and electric heating demands, amongst other things – as shown in this NEM-Watch snapshot: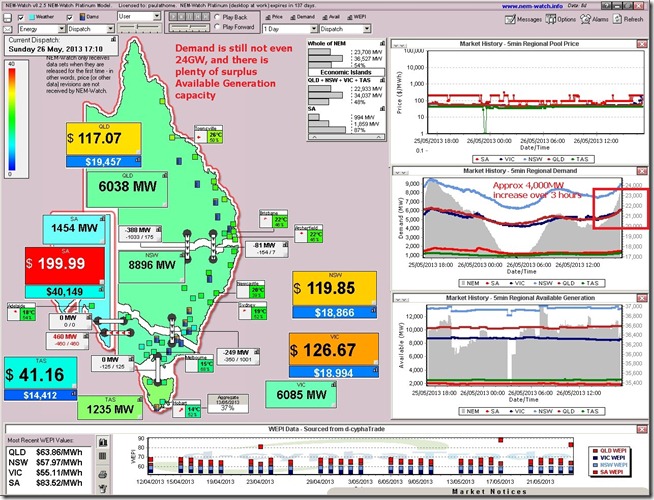 This type of pricing was first noticed in winter 2002, and has continued on-and-off since that time.
Some winters have exhibited more volatility than others – what will be the case in winter 2013?
---
.
Editor's Note: Pre-Order your copy of our QLD Market Review before 3rd June and save
One other pertinent question, as we head into winter 2013, is the extent to which the factors that drove sustained (not just volatile) high prices in the QLD region over summer 2013 will return for winter.
Our detailed review of what happened in Queensland over summer (and into Q1), that will be provided to purchasers in early June, will help you understand.
For those who want to have their copy delivered as soon as it is released, you can pre-order today and still save 10%.  Just fax back this order form (an offer just for WattClarity® Readers) with your details.