A back-dated article (from October 2021 using NEMreview v7) looking back at these two 'lowest points' for NSW demand back in December 1999 and January 2000: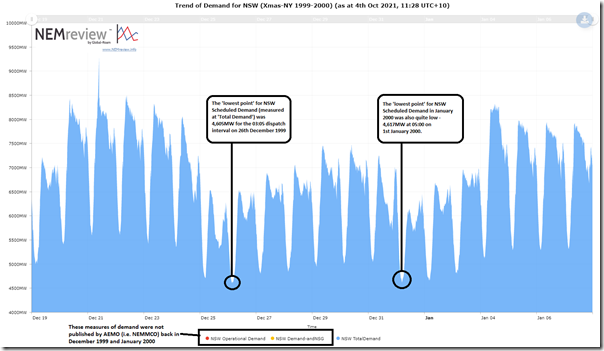 These were:
(a)  4,605MW early on Boxing Day 1999 (i.e. 'Scheduled Demand'  for 03:05 on 26th December 1999 – i.e. using target 'Total Demand' from the MMS); and
(b)  4,617MW early on New Years Day 2000 (i.e. target for 05:00 on 1st January 2000).
… this 'second lowest point' was very nearly eclipsed on Monday 4th October 2021 in broad daylight with a low point down at 4,618.10MW at 10:40 on the day.