Last Friday, Paul noted some oscillations in LOR forecasts from the AEMO, regarding a tight supply-demand balance in South Australia tomorrow evening (Tuesday 27th June 2023).
This morning I awoke to an SMS alarm (published at 05:41am NEM time) notifying me that the AEMO had posted a market notice forecasting a LOR3 condition for the period between 18:00 to 19:30 tomorrow evening. A later market notice (at 10:49) downgraded that LOR3 forecast.
Regular readers will be familiar with our efforts to analyse and understand how and why forecasts evolve, including the development of our Forecast Convergence widget within ez2view.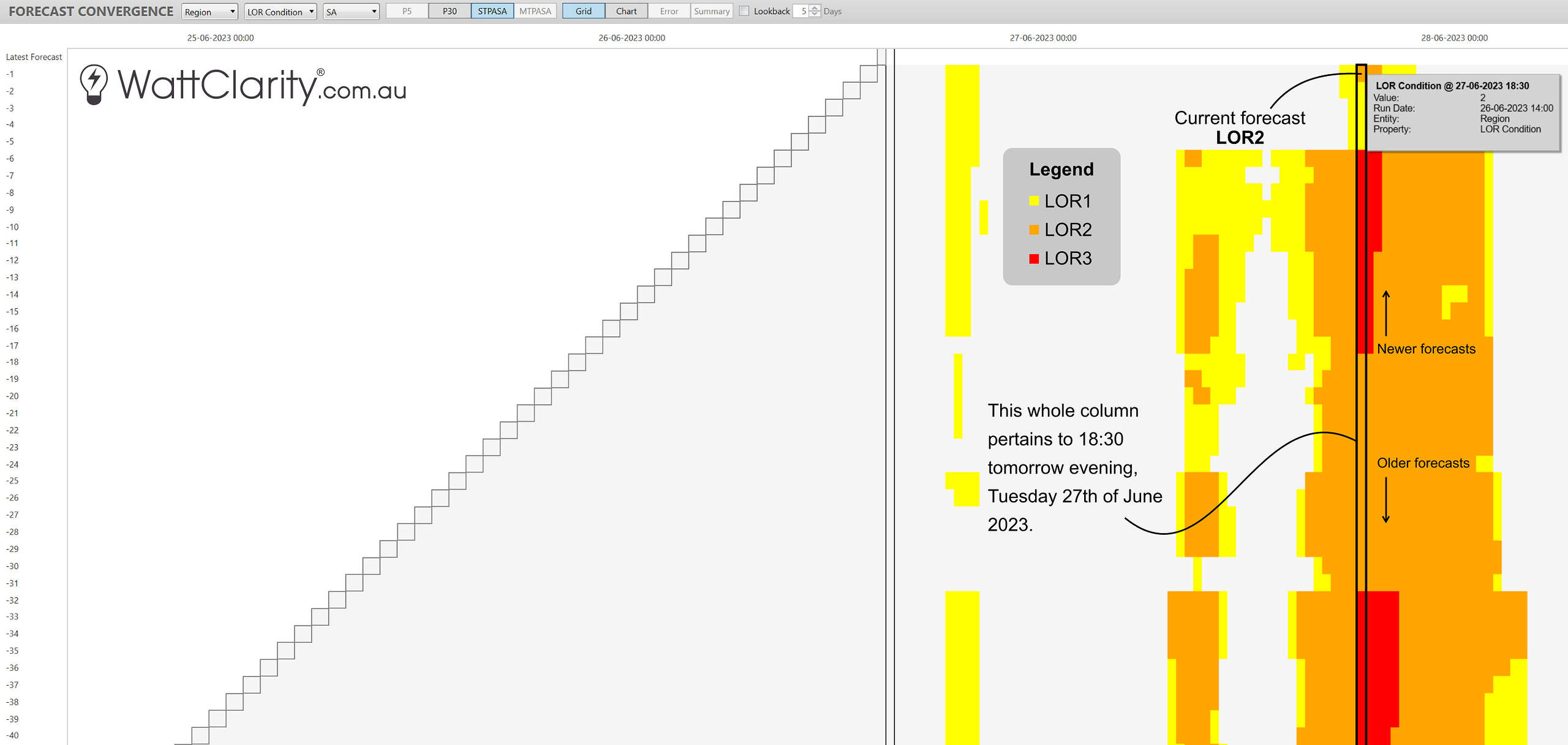 The evolving Lack of Reserve forecasts for South Australia tomorrow evening. The column labeled in the annotation shows the forecasts pertaining to 18:30 to 19:00 (NEM time) tomorrow evening.
Source: ez2view's Forecast Convergence widget
I have annotated the screenshot above which shows how the LOR condition forecast for Tuesday evening has evolved with each new STPASA data run (where a new forecast is run every hour). This LOR fact sheet from the AEMO might be useful for those who are not familiar with LOR notices.
That LOR3 market notice that I mentioned above has since been downgraded and at the time of writing, a LOR2 is currently being forecast for the period between 18:30 to 20:00 tomorrow evening.
Meanwhile, we can see that supply-and-demand might continue to stay tight in South Australia later in the week with a LOR2 notice currently in place for Thursday morning (07:00 to 08:30):
——————————————————————-
MARKET NOTICE
——————————————————————-

From : AEMO
To : NEMITWEB1
Creation Date : 26/06/2023 10:51:44

——————————————————————-

Notice ID : 108753
Notice Type ID : RESERVE NOTICE
Notice Type Description : LRC/LOR1/LOR2/LOR3
Issue Date : 26/06/2023
External Reference : STPASA – Forecast Lack Of Reserve Level 2 (LOR2) in the SA Region on 29/06/2023

——————————————————————-

Reason :

AEMO ELECTRICITY MARKET NOTICE

AEMO declares a Forecast LOR2 condition under clause 4.8.4(b) of the National Electricity Rules for the SA region for the following period:

From 0700 hrs to 0830 hrs 29/06/2023.
The forecast capacity reserve requirement is 412 MW.
The minimum capacity reserve available is 309 MW.

AEMO is seeking a market response.

AEMO has not yet estimated the latest time it would need to intervene through an AEMO intervention event.

AEMO Operations

——————————————————————-
END OF REPORT
——————————————————————-