A quick note to flag a sizeable loss of power supply through country NSW and in other places, as flagged in this tweeted response from Essential Energy to a question from a customer in that area.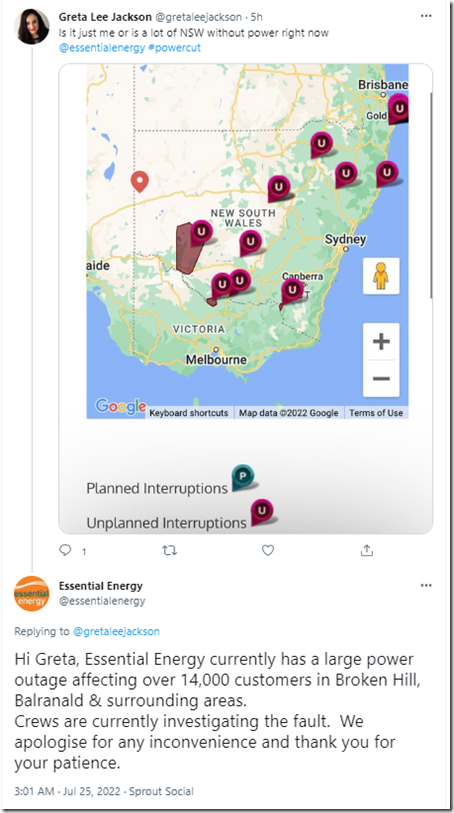 An hour earlier, AEMO had published Market Notice 100476 this morning as follows:
——————————————————————-
MARKET NOTICE
——————————————————————-
From :              AEMO
To   :              NEMITWEB1
Creation Date :     25/07/2022     02:12:04
——————————————————————-
Notice ID               :         100476
Notice Type ID          :         POWER SYSTEM EVENTS
Notice Type Description :         Emergency events/conditions
Issue Date              :         25/07/2022
External Reference      :         Non-credible contingency event – 25/07/2022
——————————————————————-
Reason :
AEMO ELECTRICITY MARKET NOTICE.
Non-credible contingency event – 25/07/2022
At 0115 hrs 25/07/2022 there was an unplanned outage of the following plant.
Buronga – Broken Hill X2 220 kV Line – interrupted Broken Hill
Buronga – Balranald X3 220 kV Line
Buronga – Redcliffs 0X1 220 kV Line
Buronga No. 1, No. 2 and No. 3 Synchronous Condenser
Redcliffs – Murraylink 220 kV Line – which offloaded Murraylink
Balranald – Darlington Point X5 220 kV Line
Broken Hill – Silverton WF X6 220 kV Line (which tripped Silverton WF)
Kiata Wind Farm
AEMO did not instruct load shedding.
Load was lost at Broken Hill and Balranald (approx. 40 MW in total)
The cause of this non credible contingency event is not known at this stage.
Manager NEM Real Time Operations
——————————————————————-
END OF REPORT
——————————————————————-
Using this NSW Map from the AEMO and annotating, this locates all those locations noted in the AEMO Market Notice: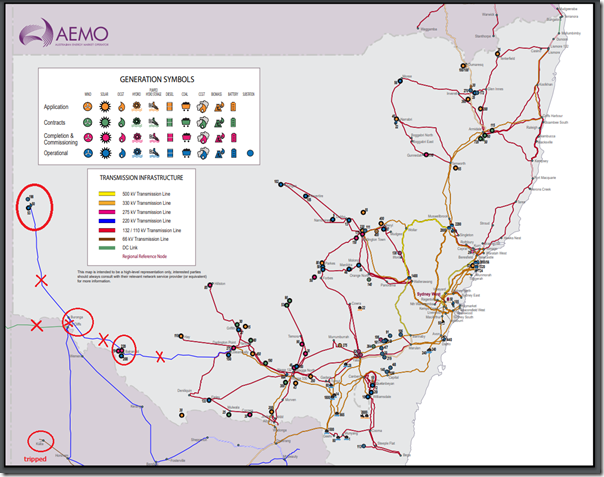 … so note that the map included by Greta Jackson in her tweet shows customers in a broader area (though there might be unrelated and localised causes).