Let's start with this snapshot from NEMwatch at 06:15 as this first update: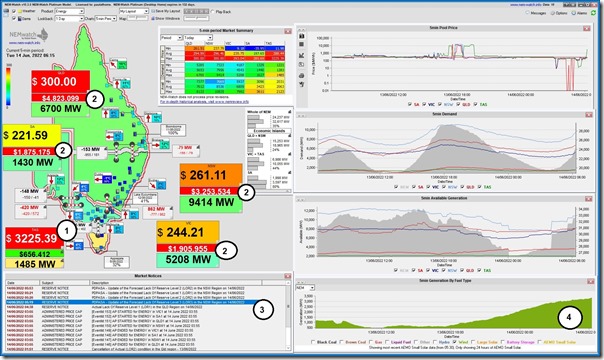 With reference to the numbering:
1)  The TAS region is the only one with prices able to rise above $300/MWh, and in this dispatch interval we see them spike to $3,225.39/MWh
2)  For the mainland regions we see:
(a)  SA more than $500,000 past the Cumulative Price Threshold (CPT) of $1,359,100.
(b)  The VIC region slightly higher than SA
(c)  The NSW region at more than double the CPT
(d)  The QLD region  fast approaching four times the CPT
… which continues to reinforce that there'll need to be some major circuit breaker for Administered Pricing to end at some point in the future.
3)  I've highlighted the 05:19 update from AEMO about forecast LOR3 (i.e. controlled load shedding) this evening in NSW:
——————————————————————-
MARKET NOTICE
——————————————————————-
From :              AEMO
To   :              NEMITWEB1
Creation Date :     14/06/2022     05:19:03
——————————————————————-
Notice ID               :         97198
Notice Type ID          :         RESERVE NOTICE
Notice Type Description :         LRC/LOR1/LOR2/LOR3
Issue Date              :         14/06/2022
External Reference      :         PDPASA – Update of the Forecast Lack Of Reserve Level 3 (LOR3) in the NSW Region on 14/06/2022
——————————————————————-
Reason :
AEMO ELECTRICITY MARKET NOTICE
The Forecast LOR3 condition in the NSW region advised in AEMO Electricity Market Notice No. 97173 has been updated at 0500 hrs to the following:
[1.] From 1730 hrs 14/06/2022 to 2100 hrs 14/06/2022.
The maximum load (other than interruptible loads) forecast to be interrupted is 590 MW at 1900 hrs.
AEMO is seeking a market response.
AEMO has not yet estimated the latest time at which they would need to intervene through an AEMO intervention event.
Manager NEM Real Time Operations
——————————————————————-
END OF REPORT
——————————————————————-
4)  In some good news from a supply-demand perspective, the wind production across the NEM has picked up again from yesterday evening.
Let's see what today has to bring…