Here's a snapshot from NEMwatch at 19:15 this evening: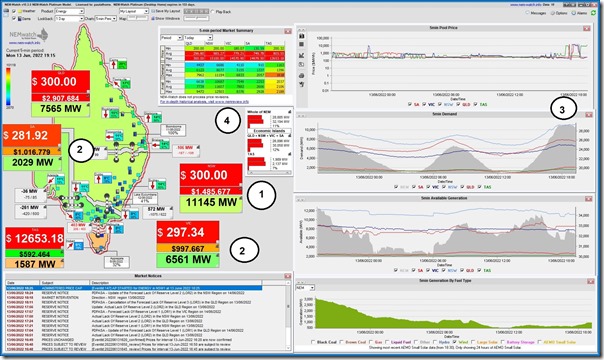 With respect to the numbering:
1)  We see NSW spot price capped at $300/MWh under Administered Pricing … which (per the Market Notice top of the window) started from 18:25 this evening (after this note from me).
2)  There's an escalating risk of further cascading failure across more regions, with:
(a)  SA already past $1,000,000; and
(b)  VIC not far below.
3)  In a bit of good news this evening we see 'Market Demand' on a NEM-wide basis, and for each region, turning the corner
4)  But the IRPM on a NEM-wide basis is still only 11% (i.e. 11.46% rounded down) … which is at least higher than the 8% level it reached at 18:05.