One more thing I did not have time to note about as it happened was that on 4th March 2022, the AEMO published this 10-page 'Preliminary Report: South Australia market suspension on 18 February 2022':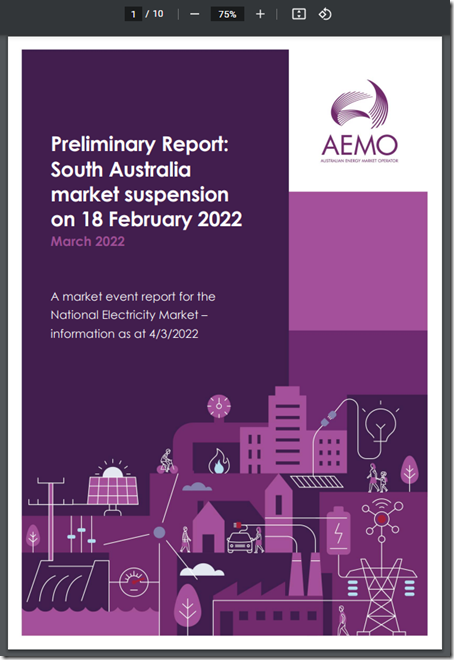 We'd posted this short article referencing Market Notice 94690 published at 14:21 on the day informing the market of suspension.
The key points in this preliminary report appear to be that:
1)  From 13:39 on 18th February, Electranet had 'only approximately 20% visibility' … talk about flying blind!
2)  But that, despite this, 'the power system remained in a secure operating state throughout the market suspension, and no generation or load was lost because of the incident' … how much of this was good luck, and how much due to good management (i.e. what might be improved) will take more time to be determined.
This preliminary report concludes:
'AEMO will also undertake further analysis relating to this event and prepare a final incident report in due course. The final report will include all the market suspension reporting requirements specified in NER 3.14.3(c)-(d) and 3.14.4(f)-(g).'