Not content with leaving South Australia as the only region to see price volatility today, the QLD region contributed some of its own this evening, beginning with $1,001.01/MWh at 18:30 following a 30-minute period above the $300/MWh cap price.
Here's a snapshot from NEMwatch at 18:40 (NEM time) this evening with the price at the $15,100/MWh Market Price Cap (MPC):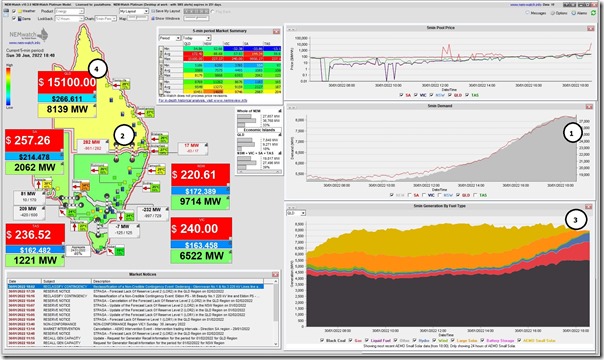 With respect to the numbered annotations on the image:
1)  The 'Market Demand' in the QLD region had begun to decline, but spiked +60MW from 8,079MW to 8,139MW in this dispatch interval;
2)  This spike in demand combined with the constrained imports from NSW…
3)  … and the disappeared production from solar (down to 15MW from Large Solar in aggregate as FinalMW for 18:40, and with Small Solar not published at this point but probably quite small).
4)  To produce drive the price spike higher.
—
Given the increasing tightness forecast through until Thursday this week, I thought this might be a useful marker for what comes next …