Given the dramas experienced earlier with the fire at the Victoria Big Battery, I've had a few alerts set in ez2view to notify me when output exceeded certain thresholds on the charge and discharge sides of the equation … and those alerts triggered over the weekend.
Hence I quickly expanded the time-range in this pre-configured NEMreview v7 query for to look back 14 days, and share it with you here today: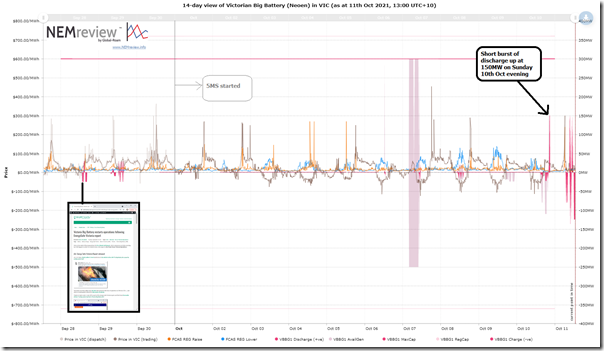 In this chart we can see several milestones:
1)  We can see the smaller burst of activity back on 28th September 2021 coincident with the release of the Energy Safe Victoria report;
2)  We can also see the change in pricing structure that commenced on 1st October 2021 with the introduction of Five Minute Settlement;
3)  We can see a period on 7th October where the battery was offered available at full capacity to the market; and
4)  We can see a larger burst of discharge yesterday (Sunday 10th October 2021) and again more activity this morning.
… so it looks like it's all going well for the battery to be ready for when it's going to be required during summer 2021-22?!