In this article published around 18:00 yesterday (Sunday 25th July 2021) I mentioned that 'it seems like we're getting quite close to seeing output' for the Callide C3 unit – which tripped offline on Tuesday 25th May 2021 in conjunction with the Callide C4 Catastrophe (i.e. 2 months earlier).
As shown in the snapshot below of the 'Unit Dashboard' widget in ez2view, the unit is back online this morning: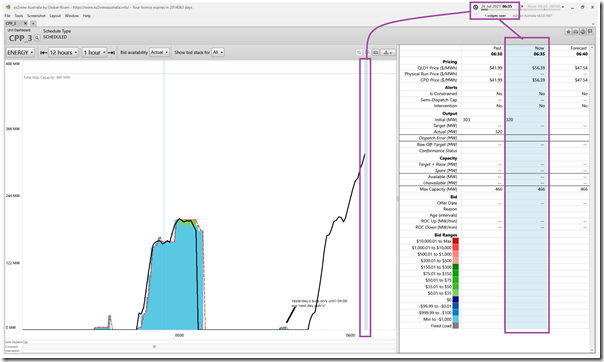 We see that the unit did come online earlier overnight – but tripped at 00:40 and the corresponding rebid at 00:34 referenced '0033P Technical issue – H2 cooling SL'.
A second attempt from 04:30 seems to have gone more successfully, at least to this point 2 hours later, with the unit above 300MW and increasing towards maximum capacity of 466MW.
—
Given the general level of interest, I expect there might be some form of news announcement here on the CS Energy website sometime later today – but there's nothing there at present…