A quick note on Friday afternoon to note that the AEMO has just published their 'Preliminary Incident Report – Trip of Torrens Island A and B West 275 kV busbars on 12 March 2021' this afternoon: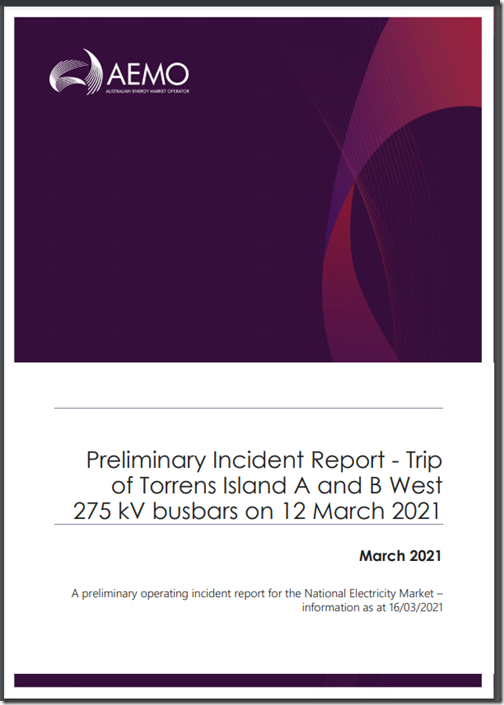 We'll call this short notice 'Part 5' of a series of articles about the event here on WattClarity:
Part within this Case Study

Context

Part 1
Fri 12th March 2021

This short article was added early in the evening, as the dramas were still unfolding, to communicate the significance.

Part 2
Sat 13th March 2021 (Very Early)

This longer article was written through the evening and published early Saturday morning (as Part 2) – being a focus on what was visible in the heat of the moment, and without access to Private Data (or a cooler head).

Part 3
Sat 13th March 2021 (Evening)

This shorter article published at the end of the day, outlining how the events of Friday in South Australia prompted thoughts about the future of the Victorian region, following the closure of Yallourn.

Part 4
Monday 15th March 2021

Guest author, Allan O'Neil, contributed this 'Down 55% – but not out' article that covered a number of different aspects of what went on on this eventful evening … both top-down and bottom-up.

Part 5
Friday 19th March 2021

AEMO published their preliminary report.

Part 6
(more to come?)

Perhaps there will be more, as there are still a few questions we are puzzled about….
.