Following on from ITK Services' recent wholesale electricity price forecast update, we have released our quarterly renewables wrap, a detailed dive into new wind and solar supply in the NEM. We rummage through our extensive database to look at the current stock of capacity in the market; analyse developments over the past quarter; and look ahead to what our projections suggest for new supply over the near term.
Key takeaways
• The first quarter of 2020 was a refreshingly positive one for wind and solar in the NEM. Fully operational capacity grew by 436 MW, more than double the previous quarter, and 6 projects totalling 831 MW were connected to the grid.
• While construction starts remained subdued, new project commitments surged to almost 1 GW during the quarter. More than half of this came from the Queensland Renewables 400 auction.
• We estimate 2.1 GW – or around 50% of capacity currently 'under construction' – is likely to have been mechanically completed and has been delayed by grid connection problems. We anticipate they will connect in the coming quarters as constraints in Victoria and southern New South Wales are resolved.
• We forecast a strong Q2 for new projects connecting to the grid, including the start of Stockyard Hill wind farm in Victoria. But our near-term forecast is subject to significant risk.

Operating capacity
As of late April 2020, we estimate the NEM has 9,007 MW of fully operational utility scale wind and solar capacity. The NEM has broken through the 9 GW mark, and is edging towards what feels like a psychologically significant 10 GW.
During Q1, fully operational capacity (i.e. projects that have completed the commissioning process) increased by 436 MW. This remains well below the peak days of late-2018 to mid-2019, but it is more than double the prior quarter. The bump in operational capacity is of course great news, but we must acknowledge that some of this quarter's strong performance is a result of delays in previous periods.
The biggest operational news of the quarter was Victorian wind farm Murrawarra Stage 1 reaching full output. We had flagged concerns around the commissioning timeframe for Murrawarra, but a sprint for the line saw the wind farm reach full capacity in 9 months. This took the construction-to-commissioning period to 23 months, one less than our standing assumption for projects of that size. This is perhaps a lesson in how asymmetric the commissioning process can be, and is something for us to watch for the set of other large wind projects about to enter the market.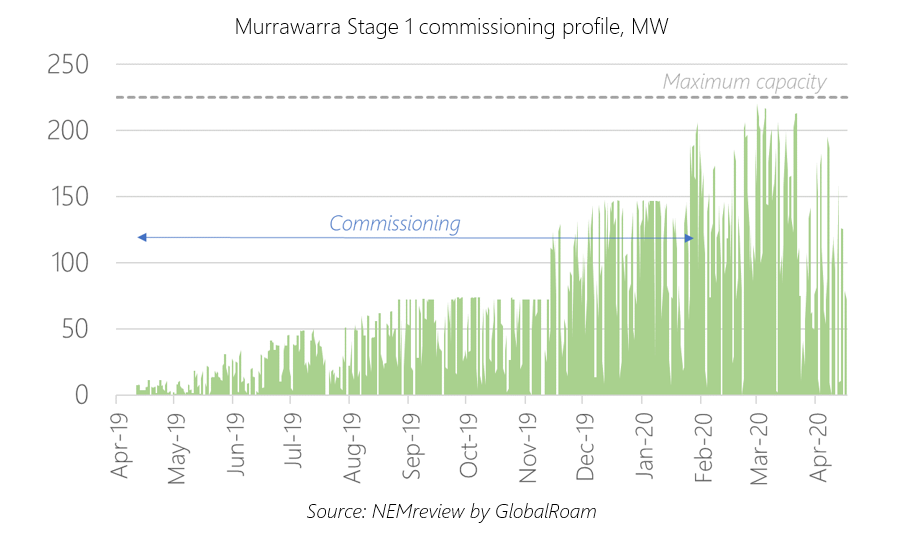 Commissioning
In total, 1.7 GW of capacity is currently going through the commissioning process in the NEM. Energised capacity took a big jump forward in Q1, likely making up for the record low capacity that joined the grid in Q4 2019. A total of 831 MW, from 6 projects, were connected between January and March.
Wind dominated new connections in the quarter, at almost 600 MW. Tilt Renewables' Dundonnell wind farm in Victoria was the biggest, with total capacity of 336 MW.
Spark Infrastructure's maiden renewable project in the NEM continued to proceed smoothly, with Bomen in New South Wales energizing just 9.5 months after construction commenced. While it is not always easy to judge the construction start date of a project, we estimate Bomen is the fifth fastest solar farm in excess of 50 MW to be built in Australia, and the third fastest over the past year.

We forecast a massive Q2 for project energisations at around 2 GW, but we're forced to concede the large degree of uncertainty around this estimate. At some point, the discrepancy between the high capacity under construction, and relatively low flow of grid connections has to unwind, but it is tough to accurately anticipate delays.
With the apparent resolution of inverter problems that caused significant curtailment at four solar farms in Victoria (Ganawarra, Bannerton, Karadoc, Wemen) and Broken Hill in New South Wales, we are expecting (hoping?) that connections in the area will become quicker. But they might not.
We estimate 4.2 GW of wind and solar capacity is currently under construction by our definition, i.e. between the start of the build, and energization. As we flagged in last quarter's renewables wrap, it's likely a reasonable proportion – 2.1 GW or 50% by our rough estimates – are likely to have largely completed mechanical build and are awaiting grid connection.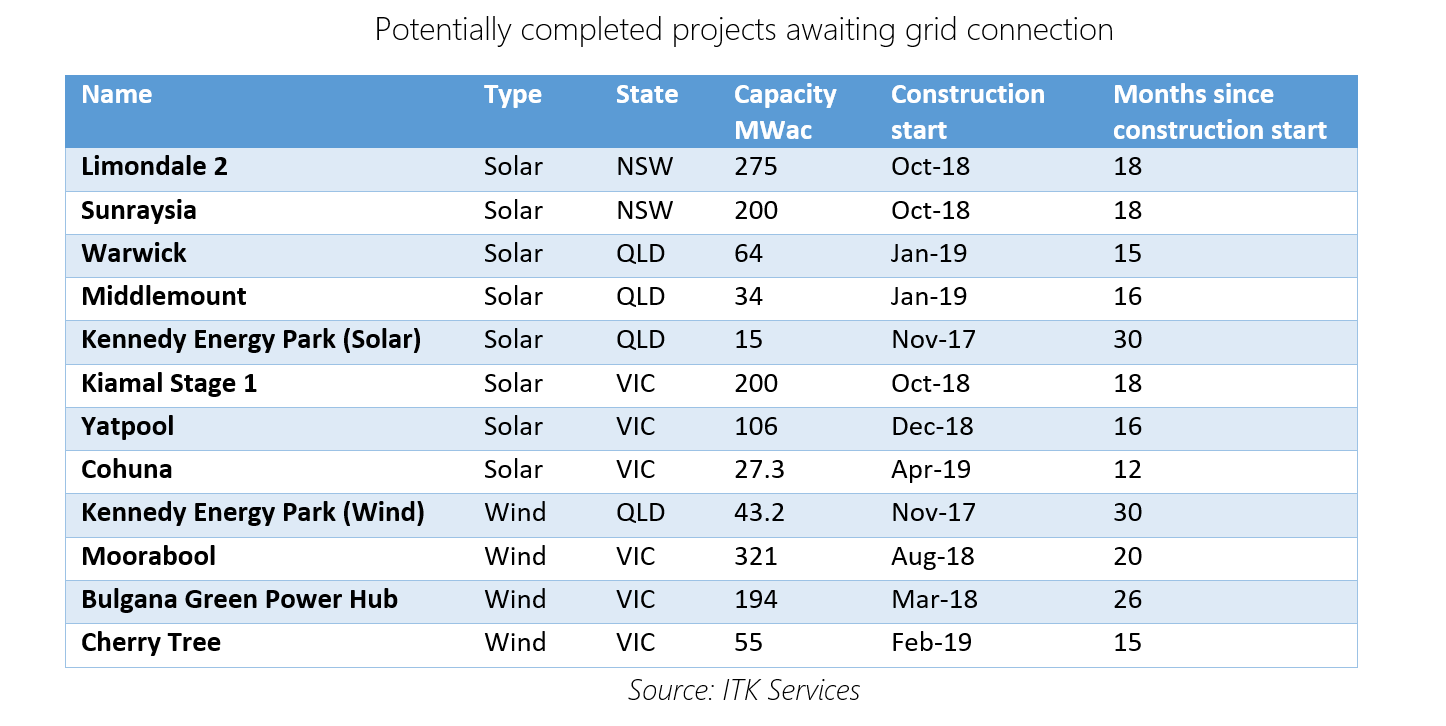 We estimate 235 MW of capacity entered construction in Q1, from two projects. This is the lowest level for quarterly construction starts since at least the beginning of 2018.
Other Commitments
While new capacity starting construction has been relatively low over the past two quarters, it may not be the grim bellwether of dying investment in the renewables sector. During Q1 almost 1 GW (935 MW to be precise) of new capacity became committed by our definition for the first time.
The biggest news in the commitment category was the eventual closing of Queensland's Renewable 400 auction process. With the newly created CleanCo now running the show, all 400 MW of advertised capacity went to Acciona's Macintyre wind farm. And in an interesting twist, CleanCo also purchased an additional 100 MW tranche of Macintyre to develop themselves. While we do not think this 100 MW stage has yet reached financial close, we consider it committed for the purposes of our database.
With two projects proceeding straight into construction, we estimate a net 700 MW of new project commitments joining the stock of projects that we consider committed but for which construction has not yet started. In total we count 1.7 GW of projects that sit in this category.
————————————–
About our Guest Author
Ben Willacy is a consultant and analyst at ITK Services.

Ben has 18 years experience in global energy sector analysis, with experience across renewables, oil and gas, and coal. He co-founded Sustainable Energy Research Analytics (SERA), creating and maintaining the SERA Tracker product providing data and analysis on Australian wind and solar developments. Prior to this, Ben led Wood Mackenzie's global coal supply team.

You can find Ben on LinkedIn here.