This week, the sun has been very central to our thoughts for a number of reasons:
1)  At least in part because of the different ways we're helping a diverse range of people deal with the opportunities, and challenges, of solar PV in the broader NEM;
2)  But also because Brisbane's (almost) winter sunlit hours are magical in any case;
3)  This Tuesday (15th May) was also an opportunity to be at the CEC's well-attended "Large Solar Forum" (they have helpfully made the presentations publicly available here).  Incidentally, nice to see a couple different references to ways we serve different clients in the slides.
Prompted by questions received about the influx of new solar entrants into the space (which we're tracking in our Generator Catalog) we took at look at output over the week and share it here with you today: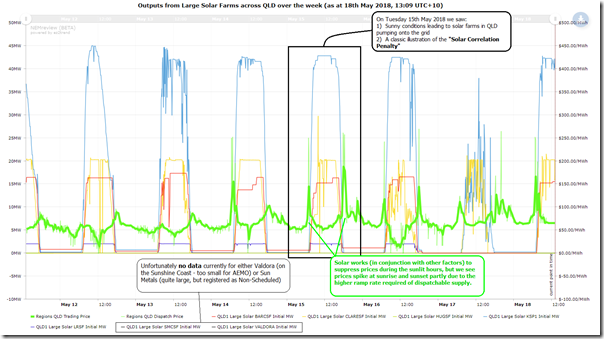 Note that NEMreview clients can access the Trend Template here, in order to see updated data and proceed to their own analysis.
What immediately jumped out to me was the effect that these solar plants (and the much larger volume currently coming from aggregate small-scale rooftop PV) is having on the shape of pricing in these shoulder months.  I've particularly highlighted Tuesday 15th May to note the irony that the CEC Forum heard of the 30 projects that Powerlink has at connection application stage followed by a much larger number at enquiry stage – and yet we're already seeing the effect of a "Solar Correlation Penalty".
The way the high degree in correlation of solar output is suppressing spot prices through the day will pose some challenges for all generation sources that operate during those periods – including solar ones (both existing, and also this steady stream of new entrants).  Coupled with this, the escalation in ramp rates required for dispatchable supply seen during the sunrise and sunset periods is also already (through the price spikes at these times in the chart above)sending pretty clear signals to the market of the type of investment required for the future.
I've already written on WattClarity before about the increasing "Wind Correlation Penalty" driven by the high degree of correlation across all major operational wind farms in the NEM (currently spread across SA, VIC, TAS and NSW).  Welcome to its rapidly growing sibling ….