Those who cannot learn from history are doomed to repeat it.
It seems this might apply to power systems engineering as well as other walks of life.
It has been over a year since the power system blackout of SA, which was not particularly novel from a technical viewpoint, but the ramifications of which have imposed itself on the body politic of Australia in ever increasing circles like ripples on a pond from a dropped stone – or an impressively sized meteorite.
We have had various reviews and reports into the incident itself, the Finkel review into power system reliability, the establishment of the Energy Security Board (ESB) and a rapid roll out of various National Electricity rule (NER) changes.
In this article, I am going to concentrate on just one aspect of the SA blackout, which is important – I would say critical – for preventing future similar events. That issue is regulation of system frequency and in particular how it relates to controlling power flows across interconnectors between regions.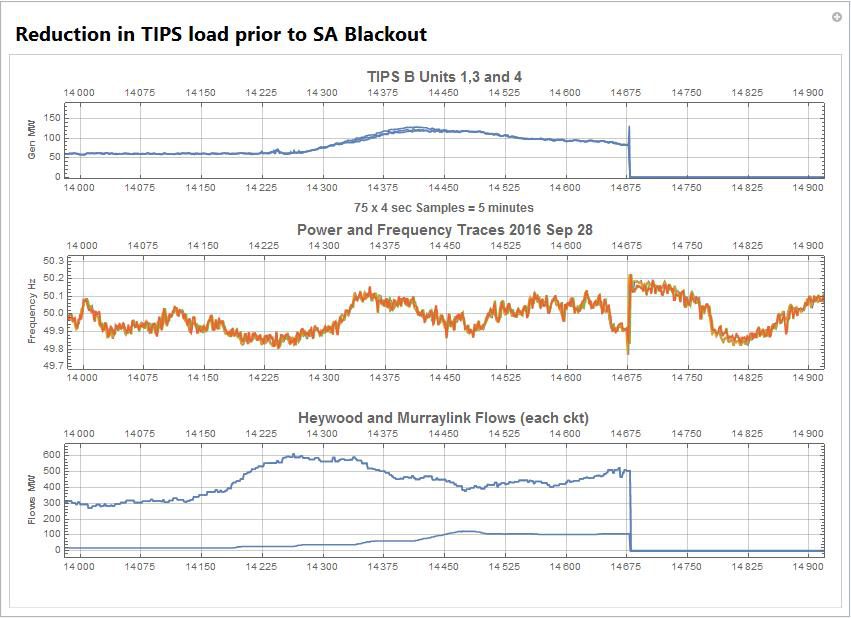 The graphic above shows that the thermal power station at Torrens Island Power Station (TIPS) was ramping down in load (after initially ramping up) for about 15 minutes prior to the blackout. This (along with the loss of wind farm generation due to system faults) contributed to an increase in flows across the Heywood Interconnector which ultimately tripped due to high power flows.
In hindsight this was exactly the wrong thing to do. However all this power station was doing was following its power dispatch set point so it was not any way at fault.
It's dispatch set point is set by the market, and there are two ways this can happen, via the price it bids for energy, and via the price it bids for frequency control ancillary services (FCAS).
As it happened on the day in question TIPS elected not to bid for regulation frequency services, and we understand no other generator inside South Australia did either. This means that if the frequency of the system declines (which the graphic shows happened about 2-3 minutes before the event) then corrective action is applied outside of South Australia to raise the system frequency.
We can work out which units were involved in applying the correction by looking at their respective outputs. All of them were outside South Australia. Even Tasmania via Basslink was supporting the mainland system frequency – everywhere except where it was needed which was inside South Australia itself.
So here's the crux of the issue:
How units are dispatched critically impacts power system security, but currently this is ignored in the design of our regulation FCAS markets. On the day of the SA blackout no units inside SA were participating in the regulation FCAS markets, in fact many units (TIPS in particular) were being dispatched downward by energy market signals.
Accordingly we shouldn't be too surprised that the Heywood Interconnector had little headroom when the tornados rolled across the state knocking down transmission lines.
The markets had created a situation which made the state's power system vulnerable to failure.
In discussions with other industry professionals on this subject a few points have been raised which I personally disagree with. I will briefly answer why below:
Raised Point 1- There was no frequency issue before the Heywood interconnector tripped because the system was operating within frequency bounds.
I disagree – in my view the allowable tolerance on system frequency is too wide and should be tightened. If it were, then tie line control could be easily introduced, which would allow better control of interconnector power flows. Having wide frequency ranges also slows down contingency frequency responses of governor control systems and limits the sensitivity that 'under frequency' load shedding schemes can be safely set to.
Operating a power system with wide frequency ranges is like driving a car with a loose steering wheel.
Raised point 2 – TIPS power output was not changing prior to the SA blackout.
I take this statement to mean that over a relatively short time frame the output of TIPS was unchanged.
When considering frequency regulation, a longer time frame is more appropriate. As the graphs above clearly show, TIPS was ramping down its power output immediately before the blackout occurred.
It should also be noted that TIPS was not the only generation which was changing over this period, in particular some wind generators were also changing their power outputs but in their case it was in response to system faults, not market directions.
Both of the statements above miss the point. Just because a power system is operating within designated frequency bounds, does not imply those bounds are appropriate. It is a circular argument to say there is no problem because limits are not being exceeded, and because limits are not being exceeded there is no problem.
So how do we avoid similar incidents in the future? I.e. how do we learn from history?
The following would go a long way to improving power system security:
(1) Regulation FCAS should be divided between regions; with regions at the far ends of the network (South Australia and North Queensland) allocated amounts that ensure the power flows on their critical transmission links are adequately controlled.
Currently it is allocated across the mainland purely on bid price. This can lead to situations where some regions have no regulation FCAS enabled.
(2) Tie line control should be introduced at weak points on the system to reduce the risk that interconnector flows reach dangerous levels.
Currently interconnector flows are free to operate at any level subject to defined constraint equations which can rapidly be overtaken by unforeseen events (such as the trip of several transmission lines).
There are many other issues that also need addressing which relate to other aspects of the ancillary services market, but this will take us too far afield from the subject of this article.
Future articles will look at contingency FCAS and the workings of the ancillary services market.
---
About our Guest Author
Bruce Miller is an Electrical Engineer from a High Voltage Power systems background. He has experience in design, commissioning and project management and the development of mathematical and software tools.

He currently manages a team of highly skilled engineering and software specialists who carry out planning, technical and commercial studies for clients to assist them in obtaining low cost, clean energy which is safe and reliable.

You can find Bruce on LinkedIn here.