A quick look at NEM-Watch v10 on Sunday evening revealed something that we don't see all that often – with relatively high demand forecast for both Victoria and NSW for late on Monday afternoon – as seen here in the snapshot taken at 19:50 NEM time: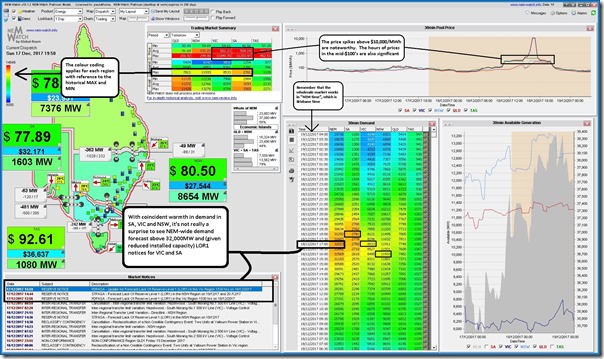 In this snapshot we've recorded the tabular view of demand, focused late in the afternoon tomorrow, where we see that:
| | |
| --- | --- |
| NEM-wide demand | forecast to peak at 32,023MW in the half-hour ending 17:00 NEM time |
| NSW demand | forecast to peak at 11,933MW (so about as high as Thursday ended up last week) in the 16:00 trading period – so 17:00 Sydney DST. |
| VIC demand | forecast to peak at 8,533MW in the 17:00 trading period, so 18:00 Melbourne DST and an hour later than the NSW peak |
| SA demand | forecast to peak up at 2,781MW in the 18:00 trading period, so an hour later still – though 17:30 in Adelaide DST. |
Much has been said about Hazelwood's closure earlier from April 2017, and much more about the reserve capacity that's been brought on to fill the gap.  This trend chart from NEM-Review v6 highlights the two big differences, from last summer to this one:
1)  A non-trivial drop in available generation capacity across the NEM (partly a result of the closure, but also because of current outages – and even taking into account some return-to-service of mothballed capacity); and
2)  The prospect of a spike to 32,000MW in demand tomorrow, which is well above what we saw in December 2016, and which we saw only a couple times through the whole of last summer.
It's not a real surprise to see AEMO issue LOR1 low reserve notices for tomorrow in VIC and SA, and then in NSW on Tuesday (with LOR1 being the least severe warning).
We'll watch with interest to see what unfolds…