"Interesting times" in the broader business environment in Victoria currently – with a number of Fairfax journalists out of action in response to redundancy plans and (today) AGL's announcement that it plans to shut down the whole of the Loy Yang A power station following from the decision of 15 ETU members to strike from Monday 15th May.  Here's some coverage in the Australian and also in the FinReview.
Having a quick look at the PASA window of ez2view reveals the scale of the interruption: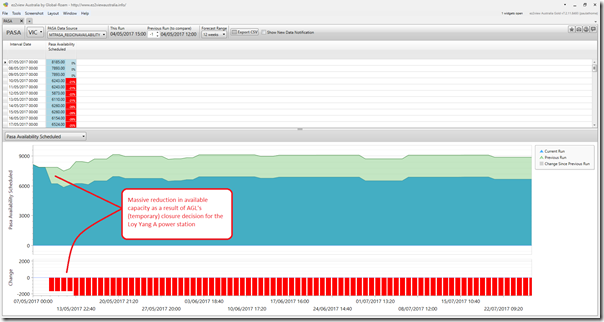 As seen in the snapshot above, the decision was taken by AGL sometime between the 12:00 and 15:00 MT PASA Region Availability data updates – and hence communicated to the market via AEMO's data delivery process.
Given that the market became aware of the closure decision at 15:00 (hence before closure of trading at ASX Energy) I was curious to see what the market response was across this small period.  Hence I powered up the early beta of NEMreview v7 (access provided to clients already) to generate the following trend: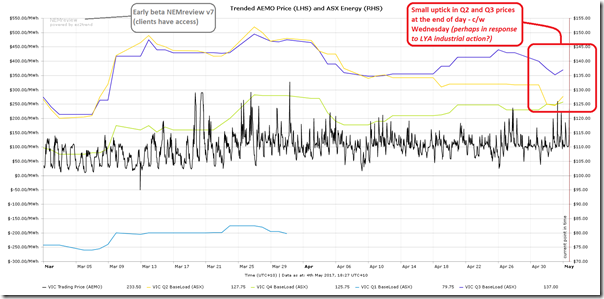 Caution, when reading this chart, in understanding that the raw spot prices are shown on the LHS axis and futures prices on the right.  Hence we can clearly see the Q2, Q3 and Q4 prices trading (currently) higher than where the Q1 price settled at the end of the Q1 period – partly in response to the Hazelwood closure.  I'd expect to see the futures prices trade higher tomorrow as the Loy Yang A industrial action becomes more widely known.
---
Frequent readers of WattClarity will recall the prior coverage of announced industrial action before Christmas (though that did not proceed).