As noted back on December 18th, we're growing uneasily accustomed to seeing Victorian electricity demand down at the blue end of the NEM-long historical spectrum – and wonder what this means for the future…
Hence it was surprising, but alarming at the same time, to see Victorian overnight demand levels drop down below 3,000MW for what I believe is the first time ever.  We can see this here, recorded in this real-time NEM-Watch snapshot: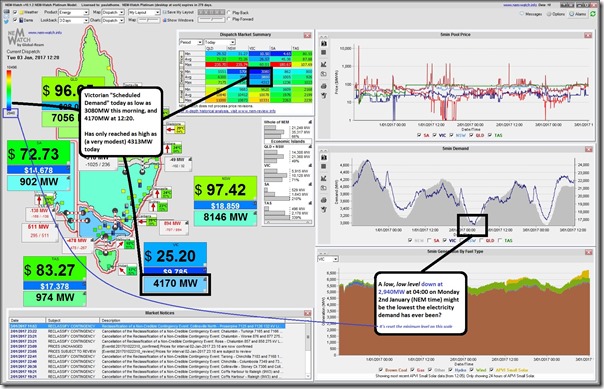 With the "Playback" function in NEM-Watch it's possible to wind the clock back to a particular point in time to see what the map would have looked like at the time, to the extent of data stored in your local NEM-Watch database. Doing this in my copy reveals that the NSW demand was also down at a relatively low level compared to its historical levels – however not to quite the same extent as seen in Victoria: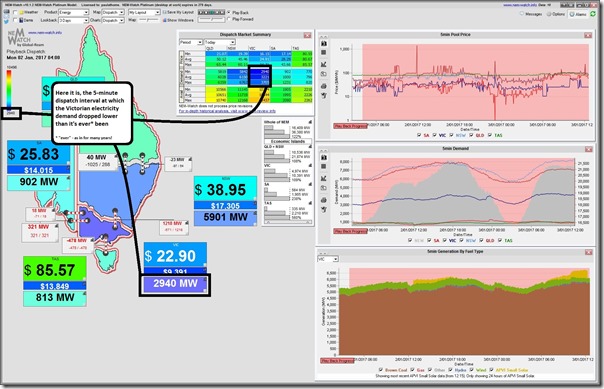 Opening up NEM-Review for some time-series analysis I've added this chart here looking at daily MIN, MAX and AVERAGE Scheduled Demand since January 2014: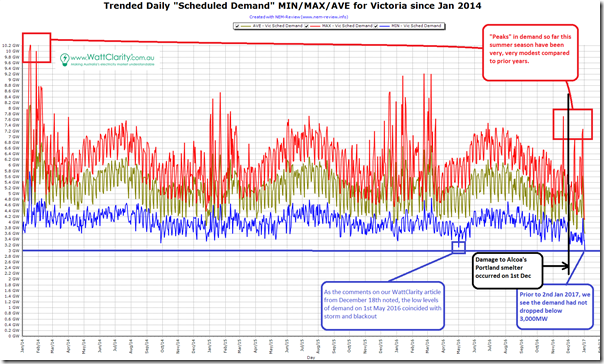 This trend shows how remarkably low are the demand levels consistently being seen in Victoria, certainly from 1st December onwards at least in part due to the ongoing technical issues at Alcoa's Portland Aluminium smelter (which occurred during the transmission outage noted here).