The Melbourne Cup was on Tuesday (and we commemorated in our own special way with NEM-Watch, and in our re-opened competition for summer).
Coincident with the race, we've seen a number of comments in social media about the coincident (& large) drop in demand in NSW that occurred around the same  time – a number of people linking the two together.  Last year we posted both:
1)  A review on Monday prior to the 2014 race of the effect of previous years; and
2)  This review of how electricity demand changed in 2014 coincident with the running of the horses.
Here's how this Tuesday's change looked in NEM-Watch: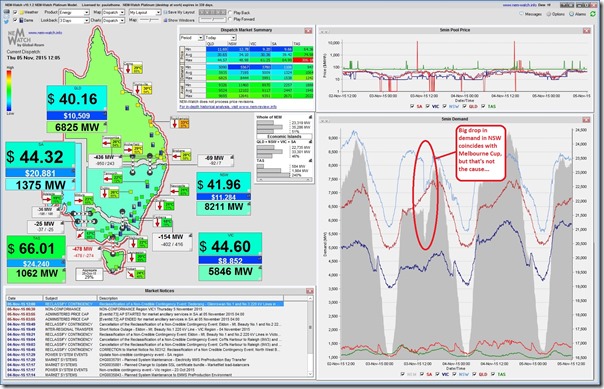 We should clarify, however, that (as noted in the image above) the large drop in load in 2015 was not due to the horse race, exciting as that might have been…