The machinations in the South Australian region following the Northern power station fire and outage have been interesting to a number of people (such as Malcolm and Giles).
Hence it might be of interest to some of our readers that the higher demand in South Australia this evening, along with the reduced output from wind, has led to the increased production from gas, and even a little output from (more expensive) liquid fuelled generation – as seen in this NEM-Watch snapshot: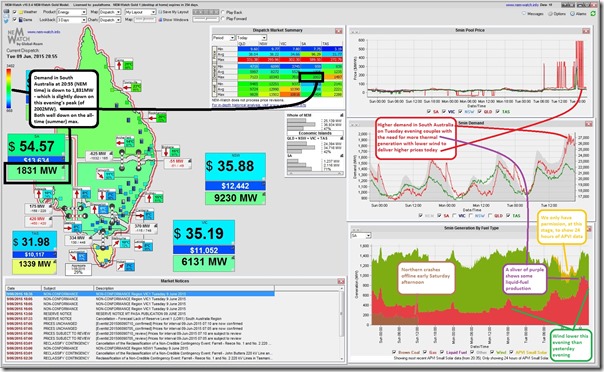 That's one of the reasons why the price has spiked as high as $589.50/MWh (on a dispatch interval basis).
Note that one* of the reasons scheduled demand is higher is that some of the wind acts behind the meter to reduce scheduled demand (so was a factor in a lower demand peak yesterday evening) – though keep in mind that the SA demand peak shown (around 2,000MW) is still a long way below its peak.
*  weather probably also played a role (I have not checked), as would have the public holiday on Monday (albeit peak demand was after 5pm).