A quick marker from NEM-Watch this afternoon to highlight the low prices (sub $30s) we've been seeing throughout the day – providing some indication that spot prices have reverted to the levels we'd become accustomed to see over most of the NEM history, prior to the 2-year-long carbon pricing experiment which ended this month: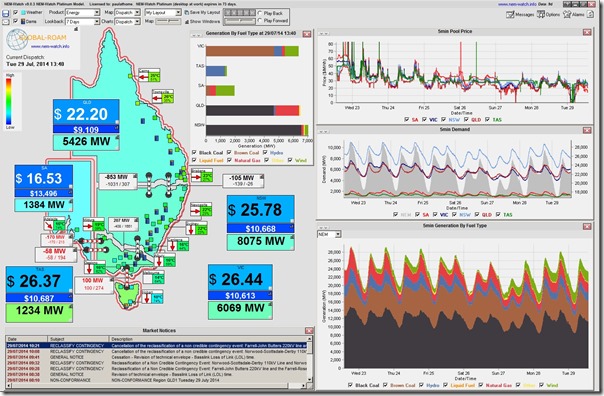 Note also that there's more than 2,500MW of wind contributing to the grid at present (reversing what we saw a week ago), plus a very sizeable (1,600MW+) contribution from gas-fired plant in Queensland at prices that some struggle to see as economic.
All of this, in an over-supplied market, is depressing prices to the consternation of all existing generators.
As noted before, the market's oversupplied because of the double-whammy of:
(a)  declining demand, coupled with
(b)  the impact of the ongoing introduction of new generation – subsidised through the MRET currently (and through aggressive feed-in-tariffs and the Queensland 13% gas scheme in the past).
The pace of new development might have abated somewhat, pending the outcome of the RET Review, but the trend for declining demand appears to continue.