Following from the discussion (online and offline) that ensued following our post of last week, I have been pondering further, and so have added here some further points of analysis: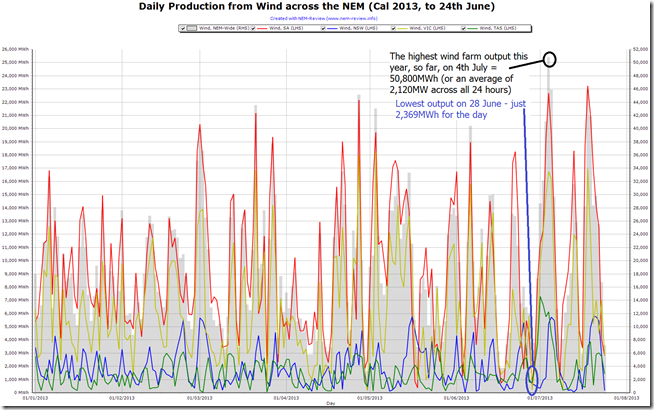 The chart above, generated through NEM-Review shows the variability in wind farm output on a daily basis.
As shown above, the "windiest day" so far this year was 4th July (or at least in terms of how it impacted on the output of wind farms aggregated right across the NEM).  On that day the wind farms produced, collectively, the significant amount of 50,800MWh – which was 21 times the amount of energy generated just 5 days earlier (28th June, the "most becalmed day" in the NEM).
Also of interest is the "windiest day in SA" (at least for 2013 to date) just 7 days ago – Thursday 18th July – when total production from wind in the region reached 23,240MWh.  More about this in a future post…
In the chart above it is possible to also see some correlation between wind farm output across all regions – for instance there are days we can see where it's windy in SA and also windy in NSW – but, conversely, we can also see a significant number of days where it's been becalmed in SA at the same time as in NSW.   This is illustrated directly below (re-arranging the same regional data as from the above):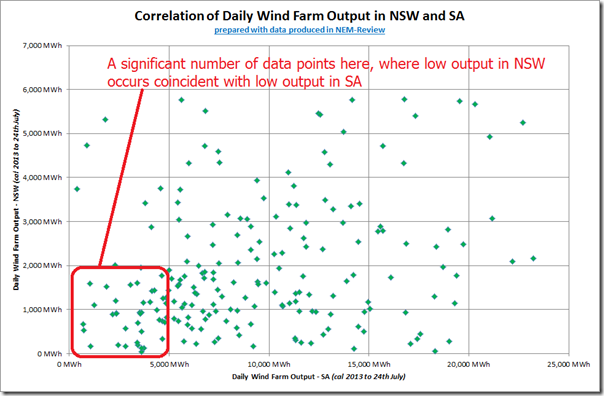 This correlation will be a challenge for the NEM as wind farm development continues to serve as the major source of RECs for the increasing MRET target.
Taking into account the "DEMAND_AND_NONSCHEDGEN" data from AEMO (which, we believe, is the best data set equating to what AEMO terms "Operational Demand"*) and comparing with the daily wind farm output (by region and NEM-wide) we produce the following trend: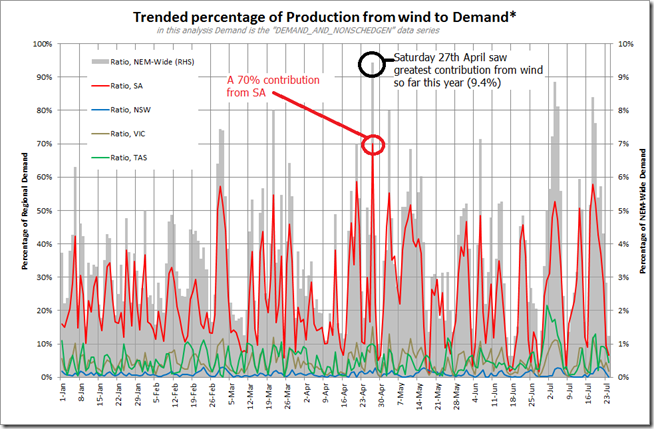 * For more information about the AEMO's definition of demand, see here.
As can be seen, contributions in regions other than South Australia are very small (< 10% except for the rarest occasions), whereas in contrast we do see significant contributions on a number of days – spiking as high as 70% on Saturday 27th April.  Coincident with this, contribution from all wind farms, NEM-Wide, peaked above 9% on that day.
Will look further into this later…