As noted on the weekend, demand remained high and, by virtue of this and a number of other factors, Queensland's spot prices remained consistently high for many daylight hours.
Memory is such a fickle thing – but we could not recall any other time when prices exhibited such a pattern (in particular, prices in the range of $200/MWh to $700/MWh for hours on end).   Especially in the light of how prices have been depressed for many months, this makes the current volatility all the more remarkable.
To see whether we were remembering correctly, we opened up NEM-Review and generated the following colourful trended distribution charts: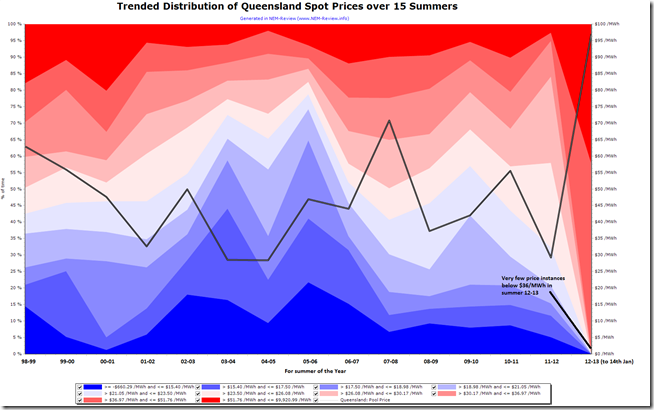 From this chart, we can see that there have been almost no instances of prices below $36/MWh, whereas in each of 14 prior summers there has been significant instances.  The advent of the carbon Tax from July 2012 has meant a shift in the short-run marginal cost of almost all of the generation fleet in Queensland.
We returned to NEM-Review and adjusted settings to utilise 10 price bands of equal range – and then zoomed into the top 5% of prices, as shown in the following chart: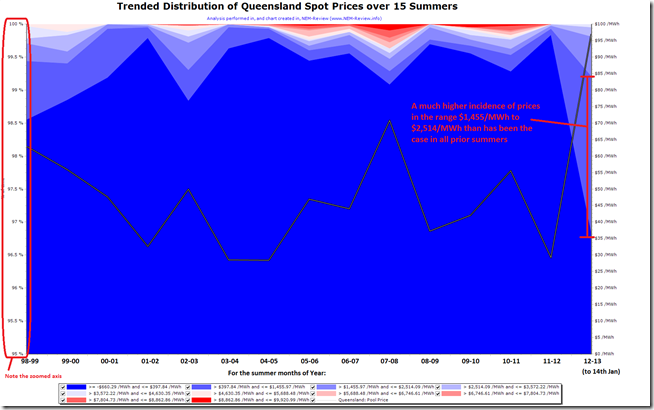 From this chart, we can see that (in addition to the lower prices disappearing, as shown in the first chart) the incidence of prices towards* the top end of the range is up significantly in the summer period (to date) compared to 14 prior summers.
* however note that there's no colours above the blue range in summer 2012-13, indicating no prices have exceeded $4,630/MWh.
As such, it does appear (on this high-level analysis) that the patterns we are seeing now are truly exceptional.
But it is not until we analyse data on a month-by-month basis, across the whole of the year, and use 110 price buckets (each of $100/MWh gradations – again through NEM-Review) that we're able to see how exceptional these prices really are.  The chart below has been generated outside of NEM-Review with the price buckets aggregated together for greater clarity in viewing: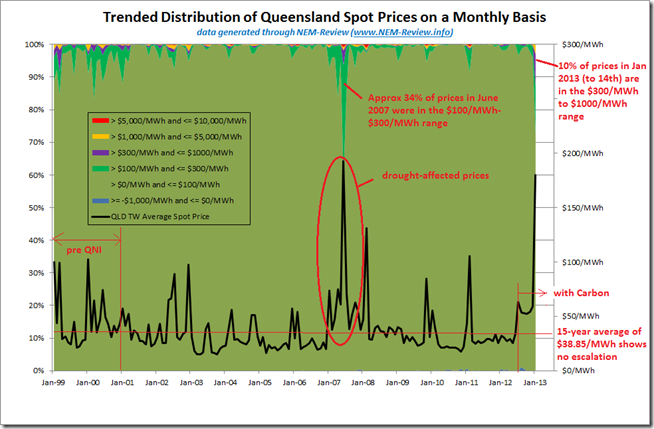 As we can see, there was one other time (June 2007) where the monthly average price was around the same level – and, on this occasion too, the incidences of prices above $100/MWh was significantly greater than at other times.  This was a period where there was significant disruption to the "normal" patterns of operation due to the national drought.
To see in more detail, we zoomed into the top 15% of price instances, as seen here: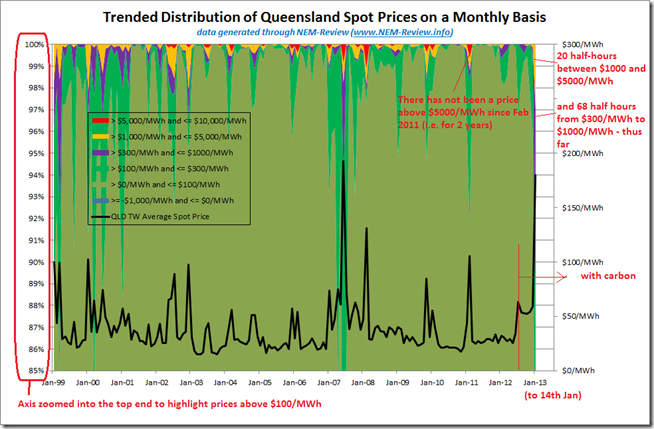 We see a significant similarity between the patterns of prices seen in January (to 14th January) and the patterns seen through June 2007 – and also in some early months in the Queensland region, prior to interconnection with NSW.
In June 2007, as well, available supplies were affected by the withdrawal of capacity from the Queensland market, and new bidding approaches for other capacity (especially hydro in other regions) – on that occasion due to the drought.
In summary – whilst it is true that recent price excursions are remarkable, they are actually not unprecedented.
Also of interest is the point made on the final chart – that there has not been a single instance of a Queensland trading price being above $5000/MWh since February 2011 (i.e. for two years, now).