Alarms were buzzing, SMSes pulsing and emails blasting yesterday as temperatures soared in South Australia and Victoria, driving demand higher and (with the help of a few transmission constraints) prices following.
Whilst engaged in other activities, we still had time to watch with interest (out of the corner of our eyes) at our various views of the NEM to see the day unfold.  As such, we had no time for detailed analysis on the day, but thought it would be of interest to publish this snapshot, taken automatically from NEM-Watch due to alarm rules we had configured: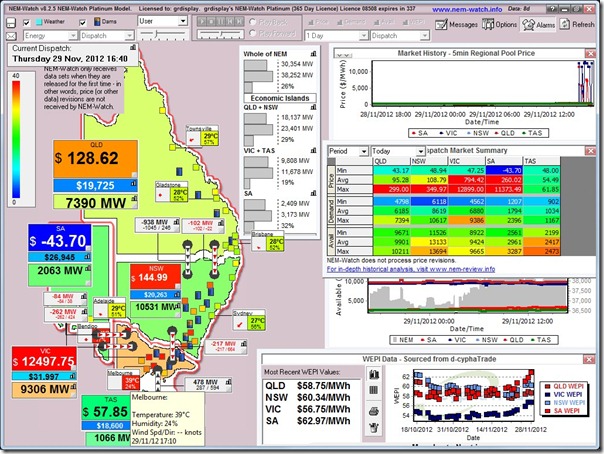 This image is a useful illustration of the extremes in pricing that sometimes happen in the NEM.
Also of interest is the level of demand seen in Victoria (9306MW) which was a significant level less than 1,200MW below the all-time record of 10496MW set a few summers ago immediately before the Black Saturday bushfires.
Highest demand on the day (on a dispatch target basis) was 9,386MW at 16:00.  This level of demand is especially significant, given all these factors contributing to a decline in demand observed in recent years.
We'll continue to watch with interest what unfolds in the market over the coming week – with NSW expected to cop the brunt of the heat wave today, and QLD by early next week.