A short article on Monday afternoon to copy in AEMO's Market Notice 111212 as follows:
'——————————————————————-
MARKET NOTICE
——————————————————————-
 From :              AEMO
To   :              NEMITWEB1
Creation Date :     13/11/2023     15:22:09
 ——————————————————————-
 Notice ID               :         111212
Notice Type ID          :         MARKET INTERVENTION
Notice Type Description :         Reserve Contract / Direction / Instruction
Issue Date              :         13/11/2023
External Reference      :         Update – Possible intervention to manage power system security in NSW Region
 ——————————————————————-
 Reason :
 AEMO ELECTRICITY MARKET NOTICE
 Update – Possible intervention to manage power system security in NSW Region
 Refer AEMO Electricity Market Notice 111201
 The synchronous generating units currently expected to be synchronised in NSW from 2145 hrs 14/11/2023 will be inadequate to maintain a secure operating state in NSW.
 AEMO estimates that, in the absence of sufficient market response by 2100 hrs 14/11/2023, AEMO may need to intervene by issuing a direction requiring one or more NSW synchronous generating unit(s) to operate or remain synchronised to maintain power system security in NSW.
 Manager NEM Real Time Operations
 ——————————————————————-
END OF REPORT
——————————————————————-'
This sort of notice has become commonplace in South Australia (with thermal units decommitting because of being swamped with VRE) and sometimes seen in Victoria – but not sure I have seen one of these before about NSW?
Because we've been progressively upgrading the 'Generator Outages' widget in ez2view following the 9th October 2023 extension to the AEMO data sets (i.e. MT PASA DUID Availability), I thought I'd include this view of the coming days for significant NSW units in this snapshot at 15:45: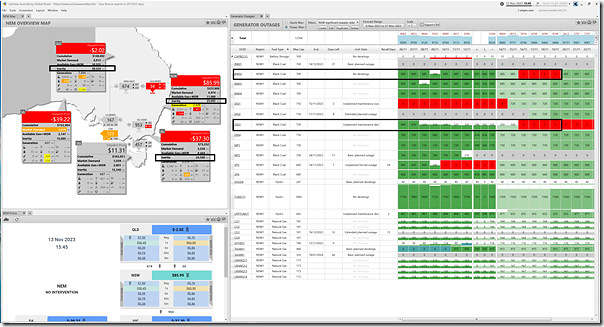 Two quick notes:
1)  Inertia levels in the NSW region currently (shown in the 'NEM Map' widget on the left) are about the same as Victoria currently – and well below those in QLD; and
2)  There are 'Unplanned Maintenance Outage'(s) shown up for BW02 and ER03 to commence on Thursday 16th November … probably need a slightly different colour than red for them (as per discussions with clients recently):
(a)  Although this was the 'stale' plan from the operators published for 18:00 NEM time on Sat 11th November
(b)  Has one (or both) of these units needed to bring their outages forward till tomorrow evening …
(c)  Or has something else shifted with one of the other significant intertia-providing units?
Nothing further at this point.