During this quiet week between Christmas and New Year there are only a couple of us working – with part of our focus being preparations for the release of the Generator Statistical Digest 2022 (GSD2022) in January 2023.
In between that (and keeping an eye on the Boxing Day test scores), I did also note some articles relating to the Federal Government's latest major intervention in the National Electricity Market.   Here's two articles about the same development from the Guardian and the Australian:
Whatever the number ends up being, it's understandable that it might cause a stir.  However it's equally understandable that in tinkering with a machine as complex as the National Electricity Market, there are going to be costs and risks involved – perhaps moreso than might have been envisaged by at least some stakeholders at the commencement of the process.
—
Given the news about Gladstone Power Station, I thought it would be worth sharing this excerpt from the very-early-and-incomplete-draft of the GSD2022 showing the 'A-Page' for Gladstone Unit 2 … which (amongst other things) highlights the very large spot revenues earned in June and July 2022 by this particular units at the height of the 2022 Energy Crisis: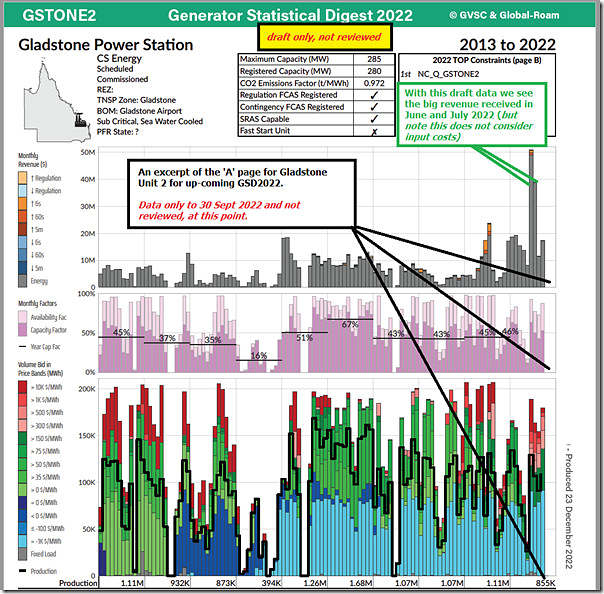 Of course, as noted on this image, the top chart shows spot revenues – so does not factor in input costs, or the effect of hedge contracts in place (amongst other things).
This compendium (which we've been producing for a number of years now in conjunction with Jonathon Dyson's team at Greenview Strategic Consulting is a very useful quick reference to performance stats for each unit individually for the most recent 10 years.
Stay tuned for more…