A short article today to record about some volatility in South Australia this morning, as it's something we might be referring back to later.
Here's a snapshot of one of the $4,000/MWh price instances – at the 08:05 dispatch interval – via NEMwatch earlier: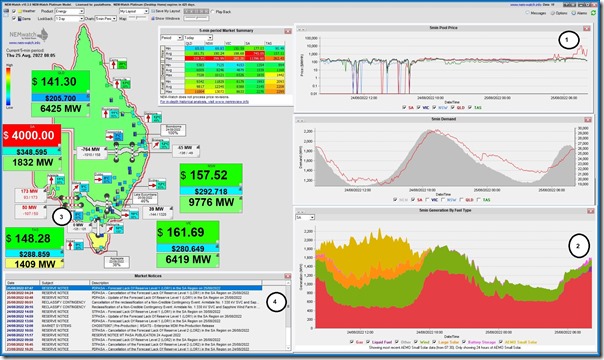 With respect to the annotations on the display:
1) From 06:55 to 08:20 most (but not all) dispatch intervals were above $1,000/MWh:
(a) with 07:30 and 07:35 above $10,000/MWh
(b) and even though prices have dropped below $1,000/MWh, they remain higher than normal (e.g. $560/MWh at 09:40)
2) There's not much wind in South Australia this morning … and, at the time captured here, not much solar as well.
3) Imports are constrained in from Victoria; and
4) In the Market Notice window below, we see a number of forecast 'Lack of Reserve' Market Notices for South Australia … both for today (this morning) but also for this evening and coming days.
That's all for now…